'The Mountain Between Us' First Look Photos: Idris Elba And Kate Winslet Survive A Plane Crash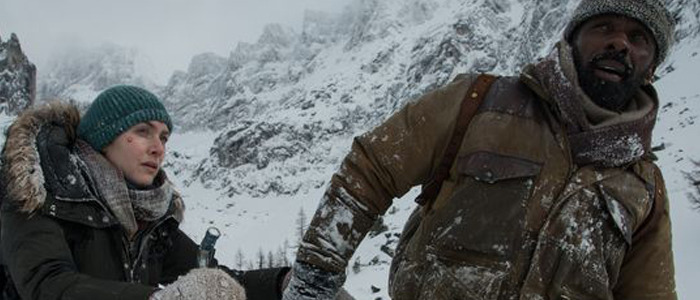 We may receive a commission on purchases made from links.
Two of England's best acting exports are joining forces for a survival romance about two people who escape the wreckage of a plane crash. Idris Elba and Kate Winslet star in The Mountain Between Us as a surgeon and photojournalist, respectively, who are injured in a crash and must rely on each other to survive in the freezing Colorado mountains. Naturally, they fall in love in the process. I mean, have you seen those two? They're two of the hottest people on the planet. Of course they fall for each other.
USA Today has our first look at some photos from the movie, as well as some quotes from the director that make me think this is the beginning of a Revenant-style campaign to make sure everyone knows how tough it was to shoot out in the elements.
First, take a look at the photos:
This film is based on Charles Martin's 2010 novel of the same name, though I'd recommend avoiding reading the book's synopsis because it seems to give away every plot turn ahead of time. The movie has gone through various casting permutations over the years, including a version with Michael Fassbender and Margot Robbie in the leads and another with Charlie Hunnam and Rosamund Pike. Those are all clearly talented actors, but I'm sure I'm not alone in thinking that the production ultimately found the best duo to play these roles.
It sounds like Oscar-nominated director Hany Abu-Assad (Omar) certainly approves of his cast's dedication. He referred to Elba as tough, saying, "You can believe he survived this wilderness," and he praised Winslet's insistence on doing a stunt herself in which her character falls through thin ice into the freezing water below.
The article talks about how difficult it was to shoot in the numbing Canadian conditions on an actual mountaintop, detailing how Abu-Assad and the producers would meet at their base camp every morning with multiple contingency plans for what they could shoot that day should the weather prove too dangerous to take the helicopter to the shooting sites further up the mountain. The Revenant almost became a joke a couple of years ago after so many stories were published about that movie's harsh shooting conditions, so hopefully this film doesn't get bogged down in those kinds of stories in the same way.
No footage from the movie has been officially released yet, but our own Peter Sciretta saw some during Fox's presentation at this year's CinemaCon, and called it "promising." I'm definitely looking forward to it.
The Mountain Between Us arrives in theaters on October 20, 2017.
Stranded after a tragic plane crash, two strangers must forge a connection to survive the extreme elements of a remote snow covered mountain. When they realize help is not coming, they embark on a terrifying journey across hundreds of miles of wilderness, pushing one another to endure and igniting an unexpected attraction.