How Universal Studios Is Revolutionizing Theme Parks: A Look At A Lineless Future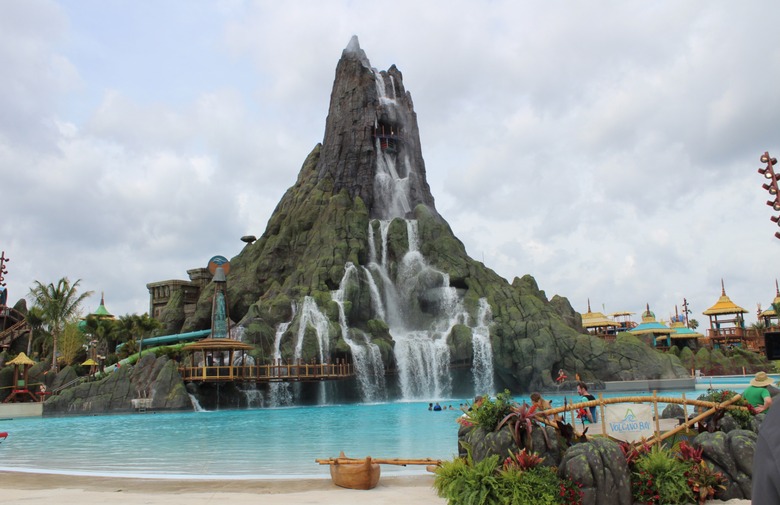 Last week, Universal Studios Orlando Resort opened their third theme park and I was there to experience it in person. Volcano Bay is not just the company's first water park, but Universal's second experiment in what might be the future of theme parks. Imagine going to a theme park and never having to wait in long lines to ride the attractions. Imagine a theme park where a good portion of the land wasn't wasted on long switchback queues, leaving the room for more attractions and experiences. This is the future Universal is promising.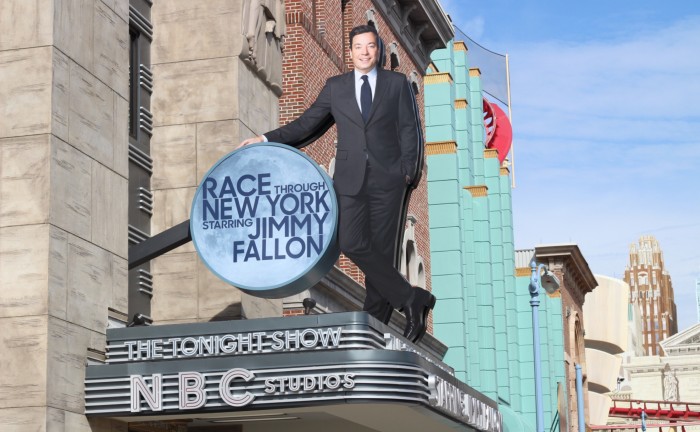 It's All Jimmy Fallon's Fault
Before we get to Volcano Bay, we should probably talk about Universal Studios Orlando's newest ride, Race Through New York With Jimmy Fallon. I've been critical of this attraction since it was announced, probably because I don't watch The Tonight Show and am not interested in another 3D motion simulator attraction. But the attraction is Universal's first step in an experiment with the future of theme park rides: it's the first ride that Universal offers without a traditional switchback line queue.
Guests arrive at a recreation of 30 Rock and reserve a ride time with their phone or at a kiosk in front of the attraction. This works much in the same way that Disney's Fastpass system operates, but there is no standby line. To ride Race Through New York, you must get a reservation.
Guests with reservations return to the attraction when their time is up and enter the lavish recreation of 30 Rockefeller Center. They are met with a 30 Rock page who presents them with a colored card that represents one of the colors in the classic NBC logo. Guests are then allowed to wander the recreation of 30 Rock and look at displays from all of the incarnations of The Tonight Show. Even if you're not interested in the history of the famous late night show, it's better exploring the space in the lovely air conditioning than waiting in a switchback line queue in the Orlando humidity.
When your group's time is up, the lights in the space will change to the color on your ticket and alert you that it is time to make your way upstairs. In the upper level of the queue, guests are entertained with a live performance from the Ragtime Gals barbershop quartet onstage, with screens showing Jimmy's monologues, History of Rap, and Lip Sync Battle. The queue also has interactive desks throughout the waiting area where guests can send personalized Tonight Show Thank You Notes, play retro-style Fallon video games, and have a meet-and-greet with Hashtag the Panda.
Sure, the games offered are pretty lame but, again, it's a much better experience being entertained in this space in the breezy air conditioning than waiting in the Florida heat. You aren't waiting in a line, but being entertained by a show and exploring a comfortable space with lots of interactive opportunities. And once again, when it's time for your group to ride the attraction, you are alerted by the lighting change in the area.
Is This The Future of Theme Park Lines?
The waiting experience for the Race Through New York With Jimmy Fallon attraction is far and away the best I've encountered in any ride in any theme park in the world. As much as I love the incredible theming of Pandora at Disney's Animal Kingdom or Universal's own Wizarding World of Harry Potter, waiting in lines sucks. I'd much rather be in a themed open space like the Jimmy Fallon attraction with a variety of entertainment options.
And it's funny – Universal Studios wasn't necessarily trying to revolutionize the theme park line experience. This was just a solution to a problem. The space in which they wanted to construct the attraction was originally the home of the late Twister: Ride It Out and they simply did not have enough room for a traditional switchback ride queue or at least one that could hold the amount of people who would typically want to ride this attraction on a busy day. So Universal Creative came up with this solution to address that problem. Now, they are already saying that they are considering using the same formula for other attractions (they won't say which ones, or if they are past or future attractions).
A lot of theme parks are running up against space restrictions, particularly the parks in Southern California: Universal Studios Hollywood is clearing out some of its backlot space to add new attractions; Disneyland Resort has been pushing against its space limitations for the last decade. Imagine how much land could be freed up at these parks if you didn't need long switchback queues. Think about how much land the queue for the Indiana Jones Adventure occupies – how many other attractions could Disney fit in that space?
Disney has long been trying to find a solution for the line problem and has introduced such innovations as FastPass, interactive queues (at Haunted Mansion and other attractions), and a playground wait system for the famous Dumbo ride. But what Universal has done here has taken this to the next level, something which I think may be the future of theme park lines. While nothing is official, I imagine Universal is planning to create a similar experience for the Super Nintendo World lands they have announced. And the interactive game experiences would make even more sense in the context of those rides.
As for the Jimmy Fallon ride itself – it's fine. It's the basic 3D motion simulator attraction that Universal has done many times before. It's filled with unfunny in-jokes that I don't get because I don't watch The Tonight Show. But that queue!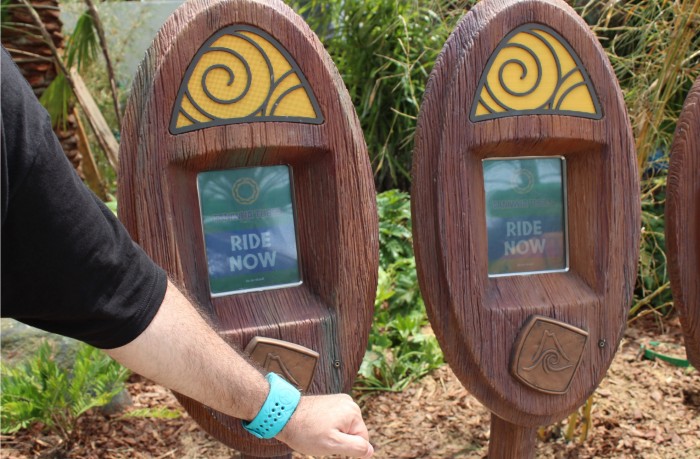 But What if the Future of Theme Parks is No Lines at All?
The significant innovation Universal Studios is introducing with their Volcano Bay park is the TapuTapu wearable, a watch-like bracelet, and two-way communication device. It may look similar to Walt Disney World's Magic Bands, but the new device packs a lot more power. The idea is that once you enter Volcano Bay, you are presented with a TapuTapu that is synced up with your ticket and if you allow it, your credit card payment information. The TapuTapu is your key to not waiting in lines, not worrying about locker numbers, not having to carry around your credit cards and ID, not having to worry about your photos, and more.
Universal is billing Volcano Bay as their first line-less theme park. The way it works is that you go to the attraction that you want to ride and wave your TapuTapu on one of the kiosks, which tells you the current wait time for the particular ride. Your TapuTapu wearable keeps track of how long you have until you need to return to the ride and will even present haptic feedback, alerting you when it's time to ride. Unlike Disneyland's FastPass system, which allows you to get a new Fastpass every hour, this system only allows you to reserve a spot in one line at a time (with one exception: the awesome Krakatau Aqua Coaster, which can be used as a second reservation once). There is no real line; it's a virtual line. And while you are "waiting" in the virtual line, you can go do something else.
What can you do while you're in the virtual line? There is a massive pool (i.e., bay) in front of the huge Volcano feature at the center of the park, which switches from calm to rough water. There are two different lazy river options: the action river, which is a bit more intense, or a traditional slow river (which wasn't open during the press day I attended). Children can play in the kid's zone, you can relax on one of the many beach recliners around the park, or you can grab food at one of the many restaurants or some signature tiki drinks at the few bars spread out around the property.
On my press day visit to Volcano Bay, there wasn't enough of a crowd to experience the virtual line system under real conditions. And it's probably not fair to judge the experience of the park in the first days of its grand opening week, which were also timed to the very busy Memorial Day weekend. But so far, virtual lines have ranged from 30 minutes to 500 minutes (typically, the Krakatau Aqua Coaster has been the longest wait because anyone can virtually wait for it in addition to another ride).
I expect that these long wait times will come down as the park finds its real footing. Some rides have been experiencing delays and have been going down for maintenance, and that's expected with any new ride or park (Universal even offers potential guests a warning when buying tickets to the opening weeks of the new park). It will be interesting to see where these virtual line waits bottoms out. I could definitely see myself waiting an hour to and hour and a half virtually in lines to ride these waterslides, but anything more than that might be testing my patience.
Other Services Provided by TapuTapu
In addition to the virtual line innovation, the TapuTapu wearables allow you to open and unlock your locker. There is no need to remember which cabinet you left your stuff in, as a wave of your TapuTapu is all that is required to open the bin. You can even link a bunch of TapuTapu bracelets to the same locker, which is super convenient.
If you have your credit card information linked to the TapuTapu, you can use it to pay for all your purchases around the park (secured with a pin code). This is great as it means you really don't need to carry anything around with you. And for someone like me who uses their passport as their primary form of identification, it means not having to find a solution (i.e., a waterproof zip-up bag) to carry my paper identification so I can purchase drinks at the bar.
There are selfie stations around the park which allow you to take a photo in front of some of the cool landmarks like the Volcano, and all you need to do is tap your TapuTapu to the station and it will save the photo to your account. You can use the touchscreen pad at the location to look at your photo and order prints, which can be picked up at one of the stores at the front of the park. Some of the water slides also will take your picture, much like rollercoasters, and these photos are saved to your TapuTapu photo account.
And the park also has many interactive water features that you can activate with your TapuTapu. For instance, you can make a geyser erupt onto your friends riding the lazy river by activating it with your TapuTapu. This feature seemed really cool to me when I first discovered it, but I realized that everyone in the park has TapuTapu wearables so what is the point of using the bracelet to set off the water features? It may as well just be a button that anyone in the park can push. The only possible reason I can think of is Universal eventually plans to monetize such features like they do the water rides over at Islands of Adventure.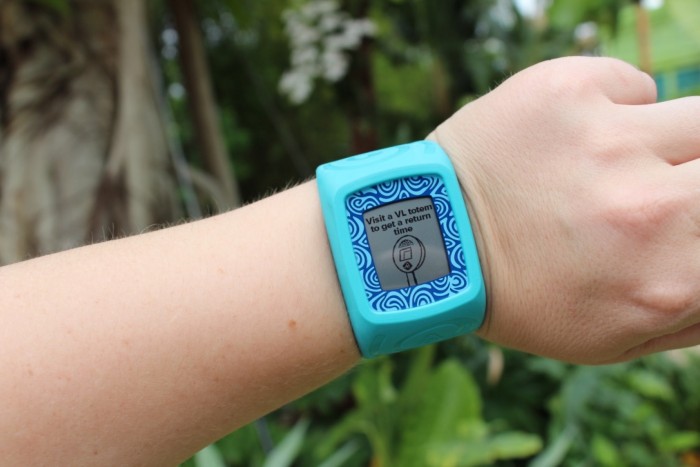 It's Not Perfect
The TapuTapu wearable does feel like a significant step forward from FastPass, but it still feels like a 1.5 version device. While it's technically a two-way communication device, the two-way communication is extremely limited. It also looks cheap, like one of those virtual pet toys from the 1990's. I would love if it had touch input technology, but I can understand that would bring the cost of the unit up considerably. It'd be good to be able to reserve your wait time on the TapuTapu instead of having to run to the other side of the park to get a spot in the virtual queue. It would be cool if you could get alerts when a slide has a short wait of it if could offer opportunities to get a discount at a certain food stand or what-not. Universal could better manage the flow of guests in this way, dispersing crowded areas of the park and filling areas like bars and restaurants that may be empty.
The biggest problem of the TapuTapu that I found was that it doesn't tell you the current time. There were so many times during the day I spent at Volcano Bay when I instinctively looked at the TapuTapu for that information. It would be so easy to include the current time at the top or bottom of the display, and I would bet money that they will update the device with that information sooner rather than later. It's dumb not to have that on the device.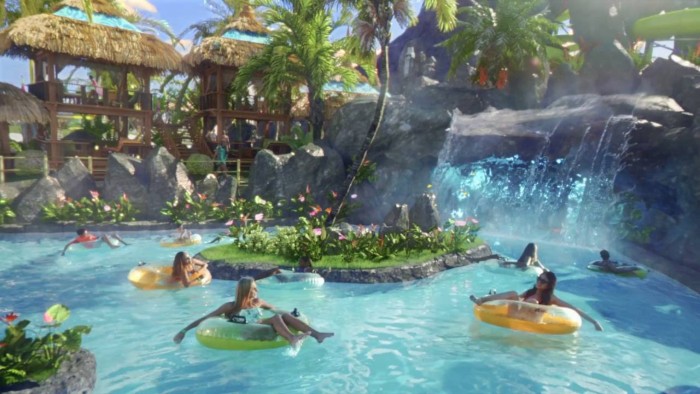 There Will (Probably) Always Be Upgrades
Universal has set up a bunch of premium add-ons, and I expect they'll always offer a premium experience for an addition price. For an extra $39.99, you can get your TapuTapu upgraded to Universal Express Unlimited, which lets you bypass all the virtual lines on all of the attractions except for the Krakatau coaster. Universal offers the same option for a different price for all of their parks, and if you have the money, it's worth it.
If you have a large group, you may want to rent one of the two-story Volcano Bay private cabanas, which gives you towel service, padded lounge chairs, a complimentary fruit and snack basket, a small fridge with bottled water, concierge service, access to an exclusive menu with all of its offerings being delivered right to your cabana and a Guest Experience Transformation (GET) tablet, which allows you to book and modify your place in all of the various attractions' Virtual Lines right from the comfort of your cabana (while everyone else needs to physically make their way to an attraction to get in line). A single cabana holds up to six people and ranges from $159.99 to $599.99 per day, depending on which type you want. If you're not looking for a private cabana on the second level or a family suite cabana that fits 16 people, the low end $160 cost isn't bad to split between 6 people.
Unlike Disney's Magic Bands, the TapuTapu wearables are returned to Universal when you leave Volcano Bay. I suspect they cost a bit more than the Magic Bands and thus Universal decided to keep the cost of the ticket price down by retaining each bracelet. Besides, there is really nothing you could do with the TapuTapu outside of Volcano Bay (not that a Disney MagicBand does anything for owners outside of the Walt Disney World Resort). But Disney probably makes a fortune on MagicBand accessories and custom art designs! I'm surprised Universal didn't feel the urge to follow. But I suspect the reason not to offer the same options stems from the cost of the unit and also the fact that the TapuTapu only functions in one park, and not across Universal's whole resort. But who knows – maybe a TapuTapu-like device will replace your ticket at all the Universal parks one day?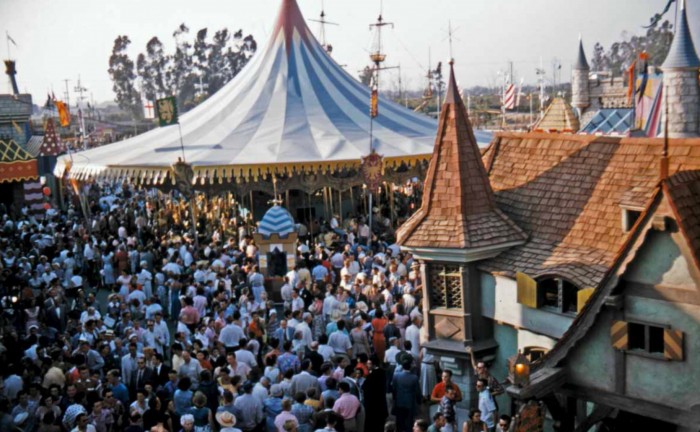 The Problem With a Theme Park With No Lines
There are some logistical problems to be solved before Disneyland and Universal Studios can become line-less theme parks. Lines, as much as we hate them (they are usually the number one gust complaint on theme park surveys), do act as holding areas for the vast majority of theme park visitors. And what I mean by this is: if guests aren't in lines, they will be elsewhere. And previously built theme parks are not designed to handle the amount of park guests that usually occupy the lines.
For instance, if Guardians of the Galaxy: Mission Breakout has an hourly capacity of 2,000 guests, and there is an average line of three hours, that means 6,000 guests are riding the attraction during that wait, with about half of that number waiting in line (the other returning via Fastpass). By displacing those 3,000 guests into the park, they will be in the streets, in the shops, watching the shows, etc. And this is only one E-ticket ride, not the whole park.
A water park like Volcano Bay was designed for the lineless masses, and there are attractions like the beach, the wave pool and lazy rivers set up to occupy the guests' time while they are in their virtual queues.  Without reducing the theme park capacity, Universal and/or Disney would have to find a solution. I imagine it would involve entertainment-based waiting areas like the one Universal Studios Orlando has set up with Race Through New York With Jimmy Fallon. Combine that with virtual queue systems and this may be the future of theme parks.