'Jagged Little Pill' Musical Coming From Alanis Morissette And Diablo Cody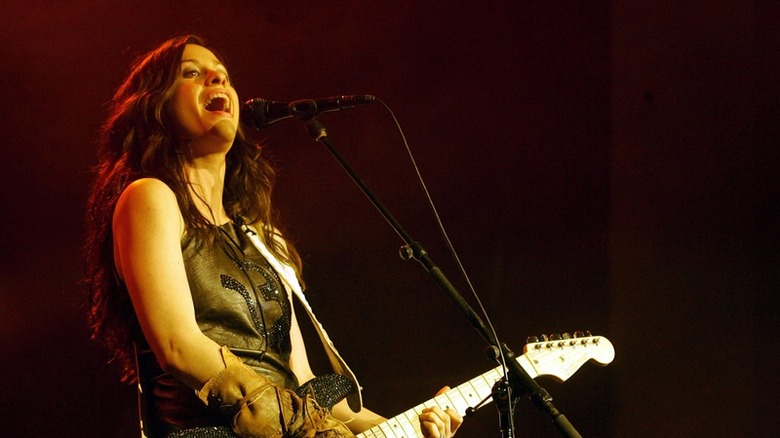 Alanis Morissette's Jagged Little Pill, which has sold over 15 million copies in the U.S. since 1995, is being adapted for the stage. In 2018, the musical from Tony-winning director Diane Paulus (Finding Neverland) and Academy Award-winning writer Diablo Cody (Young Adult) will premiere at the American Repertory Theater in Cambridge, Massachusetts.
Below, learn more about the Jagged Little Pill Musical.
According to Variety, the show has been in the works for the last four years. A new creative team is involved, though. Of course the musical will include some of the Jagged Little Pill's most famous tunes: "You Oughta Know," "Hand In My Pocket," "Ironic," "Head Over Feet," and my personal favorite from the album, "You Learn." Even reading the names of these songs probably give you flashbacks to the '90s, but they also do hold up well. There's definitely a timelessness to the lyrics.
Cody collaborated with Morissette to tell a story about "a modern and multi-generational family and their complex dynamics, touching on issues of gender identity and race." Tom Kitt (American Idiot) is handling the orchestrations and arrangements for the show, which author Vivek J. Tiwary ("The Fifth Beatle") and Eva Price (Annie) are producing. In a statement, Morissette, who was awarded Grammy for album of the year for Jagged Little Pill, said:
This team that has come together for this Jagged Little Pill musical is my musical theater dream come true. The chemistry between all of us is crackling and I feel honored to be diving into these songs again, surrounded by all of this searing talent. Diablo and Diane are already taking these deeply personal songs that are part of my soul's marrow to a whole other level of hope, freedom, and complexity.
Cody added she found the songs full of stories to tell on the stage:
I am so excited to tell a modern story through these iconic songs. Alanis's music is full of powerful narratives that lend themselves organically to this process.
And the musical's director believes Morisette's uplifting songs are "more needed now than ever":
Jagged Little Pill defined a generation and yet the raw, emotional honesty of Alanis' songs feels more needed now than ever. I am thrilled to be collaborating with Alanis and Diablo to unlock the theatrical power of this album.
Paulus won Best Director at the Tony Awards in 2013 for Pippin, following nominations for Porgy and Bess and Hair. Her, Morissette, and Cody kind of sound like a dream team – a Grammy winner, an Oscar winner, and a Tony winner – for this project, which will hopefully go on to play outside of Massachusetts. With Cody involved, they should have a good story to tell with Jagged Little Pill.