'Animaniacs' Reboot Is In The Works, Steven Spielberg Reportedly Involved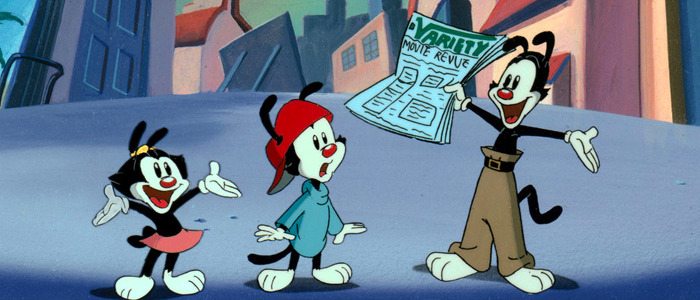 As a young movie lover who largely grew up in the '90s, I thought the animated series Animaniacs was one of the best shows on television. It was bursting with pop culture references, memorable characters, terrific music, and humor (some of which went way over my head), but even at the time, I knew I was watching something special.
The original series ran 99 episodes from 1993-1998. Fast forward to 2017 and yep, you guessed it: a reboot is in development. And there's good news: Steven Spielberg, who executive produced the original show, is "expected to be involved" in bringing the series back to life.
Indiewire has word of the reboot, which hails from Amblin TV and Warner Bros. Animation. Fans can thank Netflix if this new version ultimately comes to pass, because the original series has apparently "experienced a new surge in popularity" since it became available on the streaming service last year. (It also spawned a live tour last year.)
The show followed the adventures of Yakko, Wakko, and Dot, the Warner siblings who lived inside the water tower on the Warner Bros. studio lot in Burbank. But they were just a small part of the series. It was structured more like a variety show aimed at kids, with short mini-episodes devoted to multiple characters appearing within each Animaniacs episode.
Like Looney Tunes before it, Animaniacs taught me about movies before I was old enough to know that what I was watching contained references to anything. I have a very specific memory of seeing a Pinky and the Brain episode (featuring characters that originally appeared on Animaniacs) that begins with Brain providing narration as we see him floating face down in a body of water. At the time, I had no clue this was a shout-out to Sunset Boulevard. Animaniacs included some gangster-talking bird characters known as the Goodfeathers, a couple of whom were clearly modeled after Robert De Niro and Joe Pesci's characters in Goodfellas – a movie I didn't see until years later. Looking back on it, one of the reasons Animaniacs and its ilk were so successful was because of how well they worked as pure entertainment on one level and homage on another.
Spielberg was extremely hands-on in the earlier incarnation of the show, and while the director has certainly attached his name to some questionable properties in the past (seriously, browse his IMDb page when you get a second), the idea that he might be involved in an Animaniacs reboot bodes very well for the project. The reboot doesn't have a network home yet, but I wouldn't be surprised if Netflix acquired it themselves. What do you think? Would you watch a rebooted version of Animaniacs?