James Cameron Isn't Worried About The Gap Between 'Avatar' And 'Avatar 2'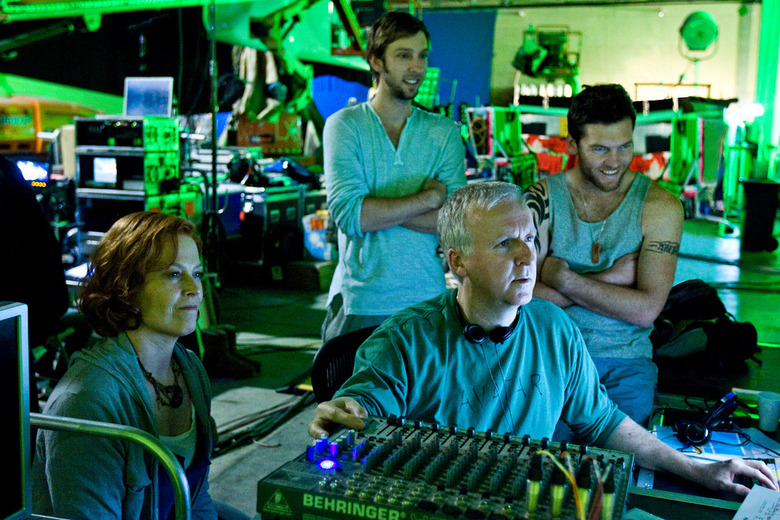 James Cameron isn't concerned at all about how the sequel to Avatar is going to perform after a 10-year wait. Considering the first film made around $2.7 billion dollars worldwide, which certainly isn't a gross you hit because of pure luck, he's probably correct not be worried. Cameron has defied expectations in the past with the best results imaginable, and yet some people still underestimate the director of Titanic, Terminator 2: Judgment Day, and Aliens.
Below, learn why Cameron isn't sweating the Avatar 2 delay.
After some unsurprising delays, the director finally began production on the four planned sequels last month. Avatar 2 was once scheduled to come out in December 0f 2014, but that date came and went. Then its unrealistic 2018 release date went out the window as well. Now, we only have three years to go until Jake Sully (Sam Worthington), Neytiri (Zoe Saldana), and the Na'vi fam go on some sort of underwater adventure, which involves Sigourney Weaver and Cliff Curtis as the leader of a reef people clan called the Metkayina.
While promoting Disney's "Pandora – The World of Avatar," Cameron told CNN he's not concerned about how his sequel to the second highest grossing film of all time will perform:
Well it didn't hurt Avatar, that there was no Avatar before Avatar. So I kind of rest my case. But it was a seven year gap between The Terminator and Terminator 2: Judgment Day, seven year gap between Alien and Aliens. It's gonna be obviously more like a ten year gap between Avatar and Avatar 2. But Avatar 2 you are going to with not the promise, but the certainty of three more films beyond that, and that's a very different concept with the audience. And a lot of the delay has been around creating that overall vision. And by the way, this land will help bridge that gap in the public conscience. People will come here, and say, man I need some Avatar.
Even with a wait as long as a decade, it's a little weird to question one of the most successful and innovative directors to ever live if he's worried whether audiences will turn up for the sequel to the movie they ate up a decade earlier. In reality, though, it's probably only a small group of people treating Avatar 2 as some sort of underdog. We often deride studios for rushing sequels into production, but when a filmmaker takes as much time as they need to get the story right, that somehow creates skepticism.
Avatar 2 opens in theaters December 18, 2020. Avatar 3 drops on December 17, 2021. Three years later, Avatar 4 arrives on December 20, 2024. Finally, we'll see the last of Pandora with Avatar 5 on December 19, 2025.