VOTD: Harvard Honors John Williams With An A Cappella Medley Of 'Star Wars', 'Indiana Jones' & More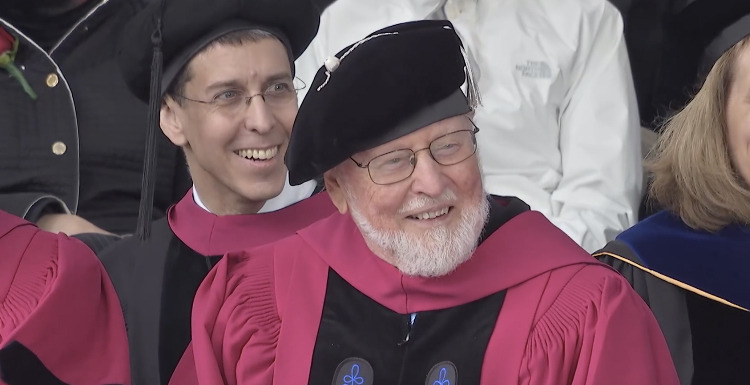 It's graduation season, and though we've already seen one spectacular musical performance as part of Will Ferrell's outstanding commencement speech for this year's graduates at the University of Southern California, we have a new favorite moment from this year's round of college grads.
Over at Harvard University, John Williams was given an honorary doctorate in music for his lifelong work as a composer of motion picture scores. To honor the man who has brought us countless memorable themes, Harvard's a cappella group Din and Tonics gave him a musical tribute featuring a medley of some of his most famous pieces, including the themes for Star Wars, Indiana Jones, E.T. The Extra Terrestrial, Jaws and more.
Watch the John Williams a cappella tribute after the jump.
Even if you're sick of a cappella singing thanks to Glee, this is still a fantastic rendition of John Williams tunes by quite the professional singing group, and the composer himself enjoys the hell out of it, grinning ear-to-ear throughout the entire performance. Who can blame him when they do cool little things like include a cappella crack of a whip during the Indiana Jones section and even some parseltongue and more dialogue being spoken during the Harry Potter theme.
For those interested, Facebook founder Mark Zuckerberg was also honored at Harvard by finally being given a degree from the school after dropping out 12 years ago to found the website the not only wastes time out of our day, but served as the subject of David Fincher's outstanding film The Social Network.