LOL: 'Deadpool' Bloopers Have Tons More Filthiness From The Merc With A Mouth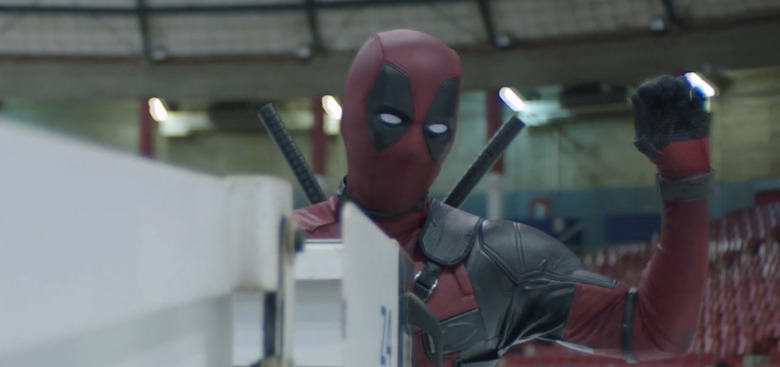 The big screen adaptation of the Marvel Comics title Deadpool was already pretty raunchy when the R-rated action comedy hit theaters early in 2016, but it turns out there was plenty more filthiness from Ryan Reynolds as the Merc with a Mouth that we didn't get to see.
Deadpool was a highly improvised movie that allowed Ryan Reynolds to ad lib a bunch of his lines, and the result is endless alternate takes and jokes, many of which didn't end up in the final movie for one reason or another. Thankfully, a Deadpool blooper reel gives us plenty of those alternate takes along with some of the flubs that were made on set during production.
Watch the Deadpool blooper reel after the jump.
Aside from the alternate takes from Ryan Reynolds, where he makes even more obscure pop culture references than the ones that actually made the final cut of the movie, it's T.J. Miller's various reactions to Wade Wilson's horribly scarred face that take the cake. Being able to come up with so many ways to describe Wade Wilson's burnt, scrotum of a face is something that can't be taught, and that's why Miller is one of the best comedic talents working today. And let's not forget all the ways that he insults Gina Carano and Ed Skrein when they come to Sister Margaret's School for Wayward Girls.
Outside of the laughs that come from this blooper reel, there were some interesting things to note about the film's production, specifically with regards to the green screen. For example, I never would have guessed that both the exterior and interior of the X-Men mansion was added with visual effects in post-production.
Anyway, let's hope that this kind of wit returns for the developing sequel that will hit theaters next summer. The irreverent humor is a big part of what made Deadpoool stand out from the rest of the superhero fare hitting theaters, so hopefully it won't take a backseat to blockbuster action.
Based upon Marvel Comics' most unconventional anti-hero, DEADPOOL tells the origin story of former Special Forces operative turned mercenary Wade Wilson, who after being subjected to a rogue experiment that leaves him with accelerated healing powers, adopts the alter ego Deadpool. Armed with his new abilities and a dark, twisted sense of humor, Deadpool hunts down the man who nearly destroyed his life.
Deadpool is now available in various formats on home video, and Deadpool 2 is slated to hit theaters on June 1, 2018.