'Red Nose Day Actually': Watch The Short And Sweet Sequel To 'Love Actually'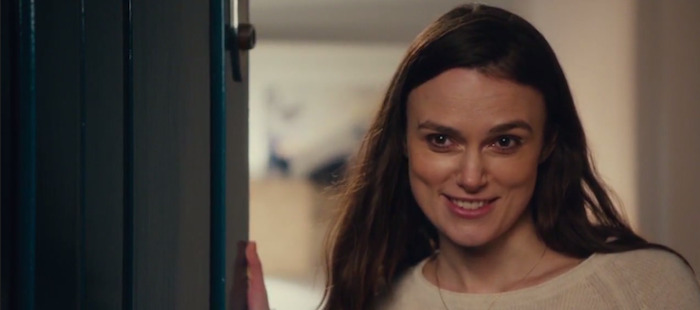 It's not Christmas, but it feels like it. Because we received the great gift of a Love Actually sequel, in the form of a short reunion film for the British children's charity, Red Nose Day.
That's right, Red Nose Day Actually is no longer just for the Brits to watch, but is now available for U.S. fans of the beloved 2003 romantic-comedy on NBC's website and on Facebook. Is everyone still happy and in love, actually, 14 years later? See the full short film below to find out.
Hugh Grant, Martine McCutcheon, Keira Knightley, Andrew Lincoln, Colin Firth, Lucia Moniz, Liam Neeson, Thomas Brodie-Sangster, Olivia Olson, Bill Nighy, Marcus Brigstocke, and Rowan Atkinson reprise their roles from Love Actually to give an update on their characters 14 years later. The storylines we don't see are those of Martin Freeman and Joanna Page, whose sex body double actors may not have been appropriate for a children's charity, and the story of Emma Thompson and Alan Rickman. Thompson declined to participate following Rickman's death last year.
A newcomer to the story was Patrick Dempsey — who seems to be popping up in every sequel to a beloved early 2000s rom-com lately — who plays the surprising dreamy husband to Linney's Sarah, a happy ending for the office worker who gave up an office crush to take care of her disabled brother.
So, what's everyone else up to? There are two versions floating around with some minor differences. The video embed below comes from the original U.K. telecast, but you can choose to watch the version that aired on NBC over on their Facebook page or through their official site. There are some minor differences (some songs in the U.K. version aren't present in the American version, presumably for legal reasons), but they're otherwise similar. No matter which one you watch, make sure you take this an an excuse to toss some money at a good cause. You can donate right here.
Knightley and Ejiofor's Juliet and Peter are still happily married, while Lincoln's once-pining Mark returns to tell Juliet that he's married to Kate Moss (via handwritten signs of course). Meanwhile, Grant's Prime Minister has made a bad habit of dancing to Hotline Bling and falling down the stairs, while his loving former subordinate Natalie brews him tea and berates him for dancing with his bad back. And Neeson's Daniel is giving fatherly advice on love to Brodie-Sangers's now-26-year-old Sam, who reveals that he found his former childhood love Joanna (Olson) and that they are getting married.
To wrap things up with a red bow — which Atkinson's Rufus does in a hilarious little bit where he's now gift wrapping at a Walgreen's — the Prime Minister gives another inspiring speech about how "love, actually, is still all around."
"It's not just romantic love that's all around," Grant says. "Most people still, everyday, everywhere have enough love in their hearts to help human beings in trouble. Good's gonna win. I'm actually sure of it."
As for the answer to the ever-debated question of what is the best Christmas movie?
"What a stupid question, everyone knows it's Elf," Grant retorts.
The short film aired in the U.K. in March and in the U.S. Thursday night as part of the Red Nose Day special.