Terrible Reviews Can't Stop A 'Baywatch 2' From Being Planned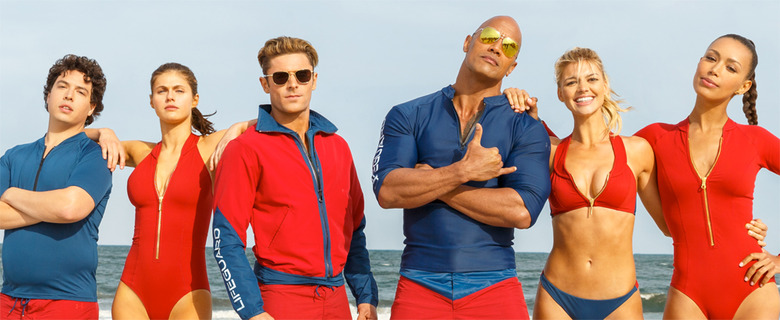 Baywatch has faced a tsunami of middling to bad reviews, but that won't stop the comedy-action movie from jetting forward to a sequel, and possibly, a franchise.
Producers and writers are already planning a sequel to Baywatch with the cast, led Dwayne Johnson and Zac Efron, returning in their roles. Baywatch itself is a big-screen reboot of the popular '90s TV show starring David Hasselhoff and Pamela Anderson, and a sequel would somewhat follow the footsteps of the successful movie reboot of 21 Jump Street. Though, according to reviews, that's the only thing they have in common.
Baywatch producer Beau Flynn told Variety that he and writers Damian Shannon and Mark Swift, who co-wrote the script for the first movie, have a rudimentary plan for Baywatch 2.
"We have an amazing story already. We're bringing back Shannon and Swift who wrote on the first one, and I know Dwayne would be in, I know Zac and all the girls would be. We just have this really cool idea to put them in this whole new world. We would take it overseas."
The "girls" in the cast that he mentions are Priyanka Chopra, Alexandra Daddario and Kelly Rohrbach, and other cast members include Jon Bass and Ilfenesh Hadera. They all seem game for another lap at the Baywatch pool, according to Variety.
Rohrbach, who made her feature film debut in Baywatch and takes over Pamela Anderson's role from the original series, was especially excited.
"Of course! I couldn't have asked for a better cast on my first film. These guys are awesome. They're hilarious, they're loving, they're generous. We really were a family and I think that comes though on the screen, as well."
Daddario agreed, adding:
"Yes! I would love to. I think it's very cool to be part of a franchise, and I think it helps get other work. It's fun. You get to travel the world and work with these amazing people, and you get to make people laugh, so I'm completely down for it."
Chopra is the villain of the film so it seems unlikely she'll return for the second.
And what of Johnson and Efron?
Well, Johnson is this movie's most dedicated hype man, and is one of the driving forces behind the movie making it to the big screen, acting as the lead star and producer. With Johnson at the forefront of other massive blockbusters like Fast and Furious, the upcoming Jumanji, and solo supervillain movie Black Adam, the world's best paid actor would have his hands full. But he would probably sign on for a sequel anyway.
Meanwhile, Efron seems pretty assured on Twitter that there would be a Baywatch sequel, and even a third. So he's probably in too.
Yes, right before 3. 😜#AskZacEfron @baywatchmovie https://t.co/Vp7hUDbX9V

— Zac Efron (@ZacEfron) May 14, 2017