Jerry Bruckheimer Says The 'Pirates' Franchise Won't Go On Without Johnny Depp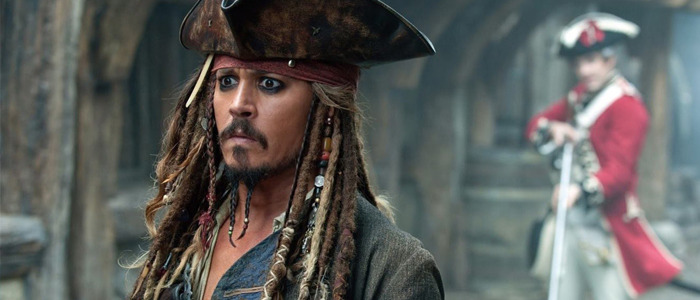 Pirates of the Caribbean: Dead Men Tell No Tales, the fifth movie in Disney's long-running film franchise, was being prepped way back in 2013. Maybe back then, the national consciousness was more open to the idea of another chapter in the continuing adventures of Johnny Depp's buffoonish scalawag Captain Jack Sparrow. But now? Who knows. After overcoming some obstacles on the way to the big screen, the film finally opens today.
Producer Jerry Bruckheimer says that the franchise won't continue without Depp. So will this be the final entry in the saga? Has Jack Sparrow crested his final wave?
In a new interview with Digital Spy, Bruckheimer – who has produced every film in this franchise – was asked about the possibility of a future Pirates film that doesn't feature Depp as his famous character.
"I just don't see it. The secret to any successful franchise is picking talented people, and Johnny is absolutely key to the success of Pirates. He's such a unique character, such an endearing character, and such an irreverent character all in one."
I mean, sure, I guess he's unique, but I'm not sure how many people would consider Jack Sparrow endearing at this point (especially considering Depp's off-camera troubles). Even though the new movie wraps up by leaving a few threads hanging and the potential for another sequel, Disney might be better off just letting this film series quietly slide down into Davy Jones' locker.
Pirates of the Caribbean: Dead Men Tell No Tales stars Johnny Depp, Geoffrey Rush, Javier Bardem, Brenton Thwaites, Kaya Scodelario, Orlando Bloom, and more. It's in theaters now.
Johnny Depp returns to the big screen as the iconic, swashbuckling anti-hero Jack Sparrow in the all-new "Pirates of the Caribbean: Dead Men Tell No Tales." The rip-roaring adventure finds down-on-his-luck Captain Jack feeling the winds of ill-fortune blowing strongly his way when deadly ghost sailors, led by the terrifying Captain Salazar (Javier Bardem), escape from the Devil's Triangle bent on killing every pirate at sea – notably Jack. Jack's only hope of survival lies in the legendary Trident of Poseidon, but to find it he must forge an uneasy alliance with Carina Smyth (Kaya Scodelario), a brilliant and beautiful astronomer, and Henry (Brenton Thwaites), a headstrong young sailor in the Royal Navy. At the helm of the Dying Gull, his pitifully small and shabby ship, Captain Jack seeks not only to reverse his recent spate of ill fortune, but to save his very life from the most formidable and malicious foe he has ever faced.