Sony's Spider-Man Spin-Off About Black Cat And Silver Sable Gets A Director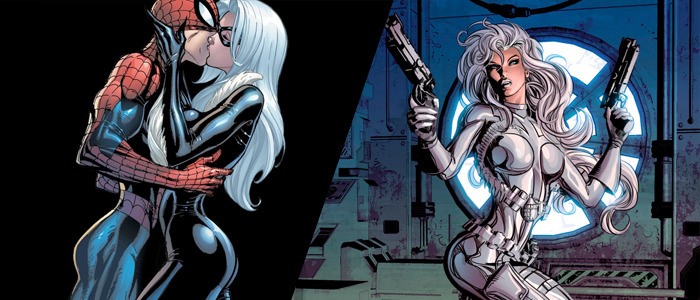 There's more than enough Spider-Man content to go around in Hollywood – at least that's the mentality of Sony Pictures, who owns the cinematic rights to many of the characters within Spidey's universe. The studio has already given a green light to a Venom movie starring Tom Hardy, and now they've proven they're serious about bringing another Spider-Man spin-off to the big screen as quickly as possible.
The studio has just hired The Secret Life of Bees, Love and Basketball, and Beyond the Lights director Gina Prince-Bythewood to direct their Black Cat and Silver Sable movie, which now has an official title. Get the latest info below.
The Hollywood Reporter brings word that Prince-Bythewood will be at the helm of the new movie, which is now called Silver and Black. Silver Sable is a mercenary who hunts war criminals, while Black Cat is a master thief with the secret identity of Felicia Hardy; the latter is frequently one of Peter Parker's love interests in the comics.
This is cool news because it means another talented female director is getting a chance to put a mark on a major Hollywood superhero property. It's taken a long time to get to this point, but hopefully the industry will continue to take larger steps in this direction and ultimately give a female director the chance to direct a film that doesn't feature a female protagonist. Prince-Bythewood is a filmmaker who's fascinated with emotional, flawed characters, and I can't wait to see what she does with a movie of this scale. This also won't be her first jaunt into superhero territory: she directed the pilot of Cloak & Dagger, the young adult series from Marvel TV that will air on Freeform.
Westworld co-creator Lisa Joy was hired to write this movie way back in 2014, and it's since been rewritten by Chris Yost, who penned Marvel Studios' upcoming sequel Thor: Ragnarok. Matt Tolmach and Amy Pascal are producing.
Even though The Amazing Spider-Man franchise resulted in Sony deciding to share the webslinger with Marvel Studios for Spider-Man: Homecoming, the Culver City studio is doubling down on creating their own cinematic universe outside the MCU. With Venom and Silver and Black, they're seemingly hoping to keep these side characters moving until they decide that they can handle Spidey by themselves again without Marvel's help. Will it work? Will audiences understand that these movies won't feature cameos from Iron Man? Maybe a cameo from Tom Hardy's Eddie Brock could be enough to keep general audiences interested.
Venom arrives on October 5, 2018, but Silver and Black doesn't have an official date set yet.