'X-Men' Spinoff 'New Mutants' Will Be A 'Full-Fledged Horror Movie'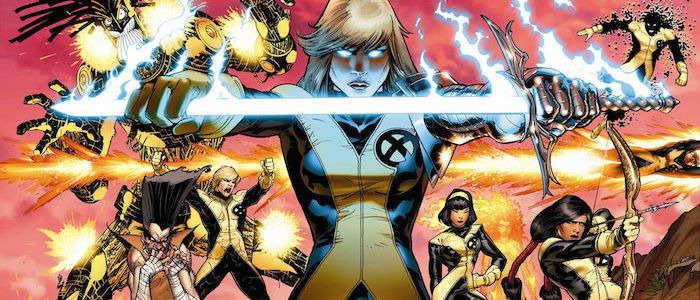 Every time a comic book movie director claims that his movie will be "very different" from other superhero movies, an angel loses its wings and gains heat vision.
But New Mutants director Josh Boone swears that his X-Men spin-off will forego all those costumes and supervillains, and go "full-fledged horror movie" instead — because horror is the new trend now. To be fair, the source material for New Mutants, the 1984 Marvel Comics storyline "The Demon Bear Saga," lends itself to the horror genre, and we are already greatly anticipating the spinoff film anyway with the casting of Game of Thrones' Maisie Williams and Split's Anya Taylor-Joy. But Boone wants you to know that New Mutants isn't like other X-Men films.
The X-Men universe, despite being home to one of the most incomprehensible superhero movie timelines, boasts some of the most creative and groundbreaking films and TV shows in the comic book movie genre. The eye-popping FX series Legion and James Mangold's masterful genre-transcending Logan are prime examples of this.
But perhaps New Mutants director Josh Boone is referring to the classic X-Men movies by Bryan Singer, which brought on the modern era of superhero movies and notoriously refused to let their heroes wear their iconic bright yellow costumes — dressing them instead in black leather suits.
Boone told Entertainment Weekly that his film will be different because it apparently forgoes all these things — including the traditional trappings of the superhero movie itself. Because New Mutants is not a superhero movie, but a horror film:
"We are making a full-fledged horror movie set within the X-Men universe. There are no costumes. There are no supervillains. We're trying to do something very, very different."
Boone will be taking inspiration from Chris Claremont and Bill Sienkiewicz's early '80s run on the New Mutants, in which the teenage students of Charles Xavier's School for Gifted Youngsters found themselves isolated from the world by a freak snowstorm and forced to overcome their own differences to save themselves from a demonic bear. The storyline delighted Boone as a child, who called it "a darker and more surreal and impressionistic X-Men series than we'd ever seen before. It felt like Stephen King meets John Hughes."
Boone wouldn't divulge any plot details, but a source told Entertainment Weekly that the movie will follow the mutants when their powers are new:
"Held in a secret facility against their will, five new mutants have to battle the dangers of their powers, as well as the sins of their past. They aren't out to save the world — they're just trying to save themselves."
Williams and Taylor-Joy have been confirmed to play Wolfsbane and Magik, respectively, and Rosario Dawson and 13 Reasons Why actor Henry Saga have been rumored to be circling parts in the movie.
Okay, I'm fine with New Mutants being a horror movie. In fact, I think it's a fantastic angle to take, and that the superhero genre is so malleable that it can present a new take on any genre: Logan did so with the western, Captain America: Civil War with the spy thriller, Ant-Man with the heist film.
New Mutants is expected to begin production in July and is scheduled to hit theaters April 13, 2018.