'Wind River' Trailer: Jeremy Renner & Elizabeth Olsen Hunt A Killer In The Cold Wilderness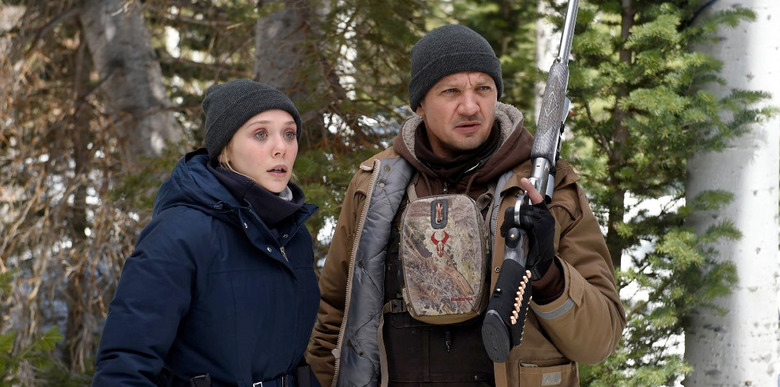 After writing the acclaimed films Sicario and Hell or High Water, screenwriter Taylor Sheridan has tried his hand at directing a suspenseful thriller of his own.
Wind River follows Jeremy Renner as US Fish & Wildlife agent Cory Lambert working on the Wind River Indian Reservation in Wyoming. When he finds the body of a young woman in the mountains, an FBI agent (Elizabeth Olsen) is brought in to help solve what looks like a homicide. She's a rookie and this her first big case, which means she's unprepared to deal with the harsh environment of Wind River in the winter, both literally and figuratively. The two must work together if they're going to figure out who committed this crime.
Watch the Wind River trailer below!
Here's the Wind River trailer, originally from Entertainment Weekly:
If the premise sounds like a derivative thriller, or even something you might find in an episode of the average crime procedural series, you're not wrong. Most of the movie plays out exactly how you'd expect, occasionally interrupted by moments of intense action and suspense. It's honestly a movie filled with cliches, but it's saved a bit by the end, as I wrote in my review from Sundance earlier this year:
"When the third act comes around, we get what Taylor Sheridan does best. The climax of this movie packs a shocking punch with an intense face-off that will have you gripping your armrests in theaters. It's not exactly enough to overshadow the derivative nature of the first two acts, but it's still pure entertainment and suspense as only Taylor Sheridan can deliver."
Furthermore, this is one of the best performances that Jeremy Renner has given and it's a much more subtle performance than you might expect from a movie like this. For more on that, you can read my full review from Sundance right here. If you'd like to see more from Wind River, here's a clip (via The Playlist):
U.S. Fish & Wildlife agent Cory Lambert discovers a body in the rugged wilderness of the Wind River Indian Reservation. The FBI sends in rookie agent Jane Banner, but she's unprepared for the difficulties created by the oppressive weather and isolation of the Wyoming winter. When she employs Cory as a tracker, the two venture deep into a world ravaged by violence and the elements. Wind River is a stark look at life on the edge of an imposing wilderness, where the rule of law is eclipsed by the laws of nature.
Wind River hits theaters late this summer on August 4.