Now Stream This: Several Bonafide Masterpieces Are Streaming Right Now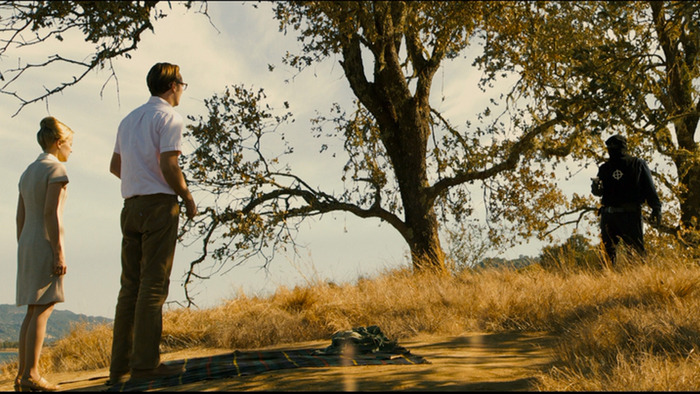 (Welcome to Now Stream This, a column dedicated to the best movies streaming on Netflix, Amazon, Hulu, and every other streaming service out there.)June is approaching and what's better than basking in the warmth and sunshine of summer? How about staying inside and streaming some great movies? In this latest edition of Now Stream This, we have the best film of 2016, one of the best films of the 21st Century, some peak David Lynch, a slice of grindhouse greatness and much more. There ain't no cure for the summertime blues, but at least there are plenty of movies to watch.
Now Streaming on Amazon Prime Video
What more can be said about Barry Jenkins' remarkable, transcendent Moonlight, the film that made Oscar history when it took home Best Picture after the award was accidentally given to the wrong film? If you've somehow managed to avoid Jenkins' film, and have Amazon Prime, it's time to see what everyone was talking about, and discover that talk was more than justified. A film of unique grace and stunning empathy, Moonlight chronicles the life of Chiron (played at different stages of his life by Alex Hibbert, Ashton Sanders and Trevante Rhodes), a young black man living in Florida coming to terms with his sexuality and place in the world. Jenkins' direction is phenomenal and the cinematography from James Laxton will take your breath away. No hyperbole here: watching Moonlight will make you a better person.
Streaming on Netflix June 1
David Fincher's 2007 Zodiac was mostly ignored upon release (it was beat at the box office by Wild Hogs, for crying out loud!), but it's since gone on to become a highly regarded classic, and rightfully so. I'd even argue it's one of the best films of the 21st century – an engrossing, scary, obsessive film about obsession. Jake Gyllenhaal is a cartoonist with the San Francisco Chronicle who takes it upon himself to sleuth out the elusive Zodiac Killer long after the murderer's killing spree has come to an end. Robert Downey Jr., right on the cusp of his big comeback with 2008's Iron Man, is stellar as a troubled crime reporter and Mark Ruffalo gives one of his best performances as a weary homicide detective. This isn't your standard serial killer thriller, and that's part of what makes it so fantastic.
Streaming on FilmStruck June 1
Brian De Palma once again channels Hitchcock, this time taking inspiration from Psycho to create this twisty, lurid, brilliant psychosexual thriller. Angie Dickinson plays a bored housewife who decides to have a quick fling with a stranger she meets at an art museum, only to end up brutally slashed to death by a mysterious woman. Her son (Keith Gordon) and a prostitute who witnessed the murder (Nancy Allen) team-up to try to catch the killer while Dickinson's psychiatrist (Michael Caine) thinks he may know the murderer's true identity. Like most De Palma films, Dressed to Kill is an exercise in style, but that doesn't mean there isn't any substance. The good folks at FilmStruck, who brought you the filmmaker's Blow Out last month, are keeping the De Palma train going in June, so hop on board. You'll discover that De Palma and Dressed to Kill manages to do for elevators what Psycho did for showers.
Now Streaming on Shudder
You'll probably want to take a shower after you watch Ms. 45, aka Angel of Vengeance. Director Abel Ferrara's 1981 masterpiece of seedy sleaze and grindhouse grit takes you back to the days when New York City was a den of filth and street crime, far removed from the modern-day tourist attraction it's since become. Zoë Lund plays a mute young woman who is sexually assaulted by two different men in one day, causing something inside her to snap and seek bloody vengeance on those who've wronged her. Ferrara was drawing on revenge thrillers like Death Wish, but Ms. 45 is inherently more unpleasant and uninviting. Some will understandably be turned off by Ferrara's undeniably exploitative film, but if you can stomach it, the experience is like stepping into a time machine and catching a glimpse of a completely different world.
Streaming on Hulu June 1
David Lynch recently returned from the Black Lodge to unleash a highly anticipated new season of Twin Peaks, blowing minds in the process. As great as it is to have Twin Peaks back, why not take a leisurely stroll down memory lane and revisit one of Lynch's best films, 1986's Blue Velvet? Kyle MacLachlan plays a college student who discovers a severed human ear in his seemingly sleepy hometown, leading him down a voyeuristic path into danger. He gets involved with a lounge singer (Isabella Rossellin), who happens to be involved with a deranged, gas-sucking murderer played to manic perfection by Dennis Hopper. If, for some reason, you're turned-off by the unsettling, unrelenting weirdness of the modern Twin Peaks and need something to ease you into those murky waters, think of Blue Velvet as a nice appetizer. It's still brimming with weird, but in a much more accessible way (although it's still pretty brutal, so be forewarned).
Streaming on Hulu June 1
Okay, let's get this out of the way first: while Leonardo DiCaprio can be a truly wonderful actor, he's kind of terrible in Gangs of New York, his first team-up with his frequent collaborator/BFF Martin Scorsese. But you can overlook DiCaprio's lackluster performance because almost everything else in Gangs of New York is fantastic, particularly Daniel Day-Lewis, who steals the entire film as the volatile Bill the Butcher. Set in mid-19th century New York, Gangs of New York follows a young Irish immigrant (DiCaprio) as he sets in motion a complicated revenge plot against the man (Day-Lewis) who killed his father (Liam Neeson). There's enough plot and history packed into this movie to fit into an entire season of television, but Scorsese weaves his magic to concoct an engrossing, often ultra-violent period drama. (Warning: Gangs of New York features a closing-credits song from U2, but please don't hold that against it.)
Now Streaming on FilmStruck
Before he committed fully to total tone-poems, Terrence Malick did actually make films that were just a tad more focused. Witness his absolutely gorgeous 1978 drama Days of Heaven. Bill (Richard Gere), Abby (Brooke Adams) and Abby's younger sister Linda (Linda Manz) flee their home after Bill accidentally murders his boss. The trio end up working on the land of a kind, shy, and most of all, wealthy farmer (Sam Shepard). The farmer is apparently dying, so Bill convinces Abby to seduce him so that when he croaks he'll leave her all his money. Of course, complications arise, as the best laid plans of Richard Gere often go awry. Shot almost entirely at magic hour – with the sun either setting or rising – Days of Heaven is a dreamy, almost hypnotic film that will remind you why Malick is so highly regarded a filmmaker.
Streaming on Netflix June 10
Julie Dash's groundbreaking Daughters of the Dust comes to Netflix in June, where hopefully a new audience will experience it. Set off the coast of South Carolina at the dawn of the 20th century, Daughters of the Dust follows a group of African-American women on the verge of migrating to the North. Told in a nonlinear fashion, with characters speaking in authentic Gullah dialect, Dash's film is poetic and rich. "I didn't want to tell a historical drama about African-American women in the same way that I had seen other dramas," the filmmaker said. "The story unfolds throughout this day-and-a-half in various vignettes. It unfolds and comes back. It's a different way of telling a story. It's totally different, new."
Streaming on Amazon Prime June 22
It's not easy to make poetry – particularly the writing of poetry – cinematic, but Jim Jarmusch was more than up for the challenge with his 2016 film Paterson. Inspired by the poetry of William Carlos Williams, Paterson follows a bus driver (Adam Driver) who pens poems in his spare time. It probably doesn't sound very exciting, but Paterson is an idyllic dream, where characters long to not just write, but breathe poetry. Who wouldn't want to live in a world like that for a few hours? 
10. Sweet, Sweet Lonely Girl
Now streaming on Shudder
Fans of slow-burn chillers like Let's Scare Jessica to Death and Burnt Offerings will get a kick out of A.D. Calvo's throwback horror flick Sweet, Sweet Lonely Girl.  Nervous loner Adele (Erin Wilhelmi) agrees to care for her agoraphobic Aunt Dora (Susan Kellermann) in the woman's spooky, gothic home. Things look rather somber for Adele until she happens to meet Beth (Quinn Shephard), who is everything Adele is not – outgoing, impulsive, and just a little bit wild. The friendship between the girls leads to tomething more, and through it all there's an unmistakable air of menace that Calvo exploits perfectly. Fans of jump-scares and cheap thrills should probably stay away, but anyone looking for well-crafted psychological melodrama will find something to enjoy here.