'John Wick: Chapter 3' Could Start Filming Later This Year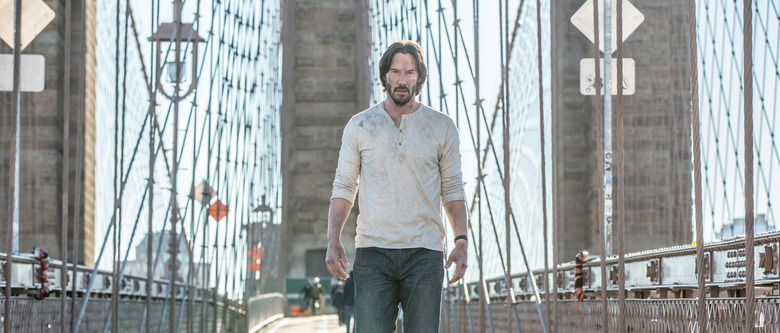 John Wick: Chapter 2 didn't disappoint. It was pretty much everything one could want and more from the sequel, which grossed almost double what the first movie made at the worldwide box-office. Following the all-around huge success, Keanu Reeves will be back as the dog-friendly assassin. If you're wondering exactly when Reeves will return as the character, according to director Chad Stahelski, says that cameras could begin rolling later this year or early next year.
Below, check out Stahelski's latest comments on the sequel.
While chatting with Collider about upcoming Blu-Ray release of Chapter 2, Stahelski didn't confirm whether he'd direct the next addition to the Wick saga. He's working on the Highlander reboot, but he's previously said he wants "to be involved in some creative capacity" with Wick 3. Stahelski is hoping to direct it, though.
Reeves and screenwriter Derek Kolstad have talked about sending the character overseas, but Stahelski told Collider there's more left in New York to explore:
We want, not so much to go bigger on the third one, but to show you more of the intricacies of the world... I feel like there are all these different subtleties that I skipped over in Number Two, that I'd like to go back to on [chapter three] and show you the inner workings of different parts of New York. So rather than massive set pieces, I'd like to show you cooler and more intricate ones... I think it would be a mistake budget wise and creatively to just go big and blow up a freeway. That's not our gig. That's a comic book or a Bond gig. We want to show you cool and intricate details. What are those little details in everyday life? Hopefully – we make people look at garbage collectors and cleaner vans and homeless people a little differently now.
While the first and second movie took place within a week or so, "number 3 may be a little bit more of a duration for John to get lost in the world then come back," so maybe he'll still go international before returning to the Big Apple. Whatever John does next, Stahleski hopes in the next couple of years we'll all look back at the man – who's always defined more by action than his words – and have a good sense of who he is:
It's not about you finding a hidden book or a secret map about who John Wick is. Anyone watching can start piecing it together. You know he's had some serious training. Was it military? Ehh — he kind of looks military. Where's he from? Well — he speaks all these languages. We're giving you the pieces and I think it's always good... Hopefully, in five years, you and your buddies will talk about how 'he's this or he's that.' We'll give you a couple more pieces and let you stitch it together.
Kolstad is in the midst of writing the third installment. A few characters he's likely beefing up for the sequel are Aurelio (John Leguizamo), Charon (Lance Reddick), Winston (Ian McShane), and maybe the Bowery King (Laurence Fishburne). The world of John Wick probably wouldn't feel quite the same without those characters.