'Wonder' Trailer: The New Movie From The Director Of 'The Perks Of Being A Wallflower'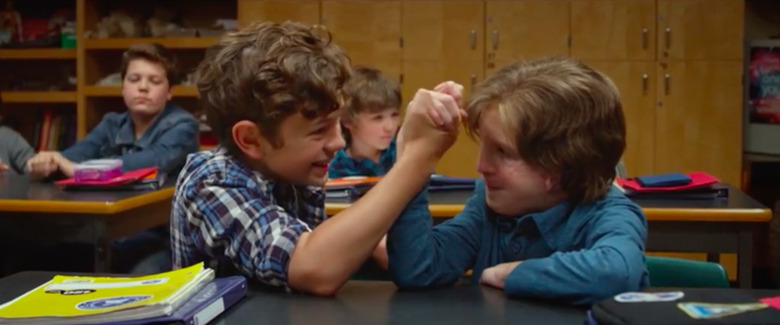 Five years after making his directorial debut, the author and director of "The Perks of Being a Wallflower," Stephen Chbosky, has his sophomore effort coming out. His new movie is an adaptation of R.J. Palacio's New York Times bestseller, Wonder, and stars Jacob Tremblay (Room), Julia Roberts, and Owen Wilson. Although Chbosky didn't adapt the material himself, the trailer shows off his warmth as a storyteller.
Below, watch the Wonder trailer.
Tremblay plays August "Auggie" Pullman, a young kid born with facial differences. He's entering fifth grade and attending a new school, his first time in a regular school. The 10-year-old, whose parents are played by Roberts and Wilson, is bullied when he starts attending Beecher Prep. But as the trailer shows, things change for Auggie after that rough beginning.
Here's the trailer for Wonder, which serves as a reminder of how good Wilson is at being so casually charming:
It's weird to see even previews for dramas beginning with quick shots from the rest of the trailer, but nonetheless, Wonder looks like a heartwarming movie. With the upbeat music, all the feel-good moments, and even the shot of Roberts and Wilson laughing joyfully over we have no idea what, one could presume it might pull a little too hard at the heartstrings. But Chbosky is probably too sincere of a storyteller to make that kind of movie. Let's hope he brings the same sense of honesty found in The Perks of Being a Wallflower to Wonder, which was originally going to open in April but is now arriving right around Thanksgiving.
While Chbosky, whose most recent credit was Disney's Beauty and the Beast, didn't write the adaptation, another talented writer did, Steve Conrad. Conrad wrote and directed The Promotion, and penned The Pursuit of Happiness and The Weather Man (the kind of movie I wish we saw produced more by major studios these days).
Here's the official synopsis:
Based on the New York Times bestseller, WONDER tells the inspiring and heartwarming story of August Pullman. Born with facial differences that, up until now, have prevented him from going to a mainstream school, Auggie becomes the most unlikely of heroes when he enters the local fifth grade. As his family, his new classmates, and the larger community all struggle to find their compassion and acceptance, Auggie's extraordinary journey will unite them all and prove you can't blend in when you were born to stand out.
Wonder opens in theaters November 17.