Stephen King's Creepy Clown Is The Subject Of New Doc 'Pennywise: The Story Of It'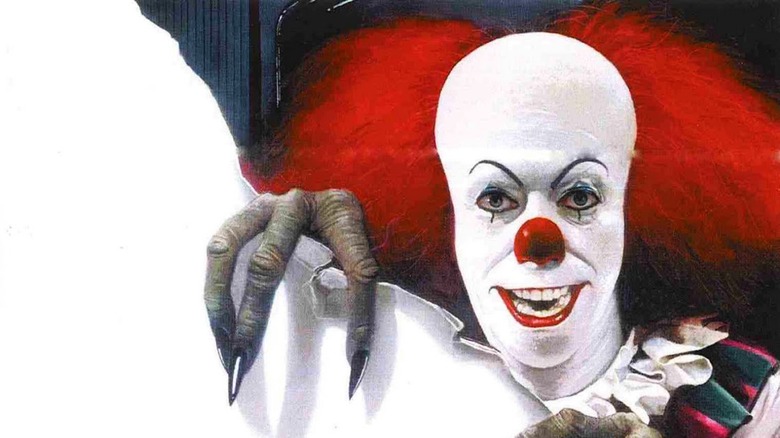 I read Stephen King's iconic 1986 horror novel It for the first time earlier this year in preparation for the upcoming feature film adaptation. The book is phenomenal, but for many, their introduction to the novel's demonic antagonist – who often takes the form of a murderous clown named Pennywise (aka Robert Gray) – came in the 1990 miniseries, in which Tim Curry played the title role.
With the new movie quickly approaching, a group of filmmakers are taking this opportunity to crowdfund a documentary called Pennywise: The Story of It that reveals behind-the-scenes details about the making of that miniseries and features interviews with the cast. And Curry himself is already on board. Check out the pitch video for the new Pennywise documentary and get more information below.
Here's the pitch video from the filmmakers' IndieGoGo campaign, via ComingSoon:
Based on the way this video is cut, I feel like the doc might be a little better off if it focused exclusively on the history and making of It instead of touching on the whole "creepy clowns in the woods" phenomenon that happened last year. I understand that there's a chance there's a correlation, but unless they interview people who were actually wandering around in the woods in 2016 dressed as clowns and they confirm that they were inspired to do that by Stephen King's It, then I don't think there's much of a valid connection to explore in a documentary.
However, director Chris Griffiths and various members of his team have been involved in multiple making-of documentaries before, so they have experience when it comes to unearthing fascinating stories of beloved properties. Collectively, they've been responsible for films like Leviathan: The Story of Hellraiser and Hellbound: Hellraiser II, You're so cool, Brewster! The Story of Fright Night, RoboDoc: The Creation of RoboCop, and Unearthed and Untold: The Path to Pet Sematary.
Plus, it's pretty spectacular that this group was able to lock down Tim Curry to participate in their doc, since the actor suffered a stroke back in 2012 and is now in a wheelchair. They've also secured what sounds like a significant portion of the cast and crew of the miniseries (more than 20 people) to tell the untold story of bringing King's terrifying masterwork to life.
If you've been able to suppress any childhood trauma this miniseries may have inflicted upon you and are interested in supporting their project, you can visit their crowdfunding page right here.