Movie Mixtape: 6 Movies To Watch With 'Pirates Of The Caribbean: Dead Men Tell No Tales'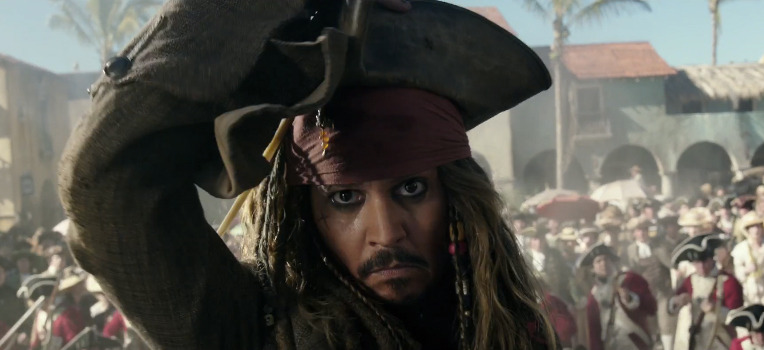 (Welcome to Movie Mixtape, where we find cinematic relatives and seek out interesting connections between new releases and older movies that allow us to rethink and enjoy what's in our theaters as well as the favorites on our shelf. In this edition: Pirates of the Caribbean: Dead Men Tell No Tales.)
Who would have thought we'd be on the fifth Pirates of the Caribbean movie? Consensus when the first installment was announced held that basing a giant budget feature off a dark ride with animatronic rum fans wasn't such a hot idea. It's not like The Country Bears or Tower of Terror were smash successes, and we were still years away from a major studio successfully adapting colored bricks into a beloved blockbuster.
Obviously, Curse of the Black Pearl was less an adaptation of a theme park ride and more a resurrection of an insanely popular genre from the Hollywood Golden Age, which went a long way toward why it worked.
After the standard diminishing returns of a franchise, here we are, with Johnny Depp stumbling through another adventure where treasure gets sought and swash gets buckled. Let's make some connections.
Kon-Tiki
After three installments, Gore Verbinski left the series, Rob Marshall directed On Stranger Tides, and now Roenberg (aka Joachim Rønning and Espen Sandberg) are at the helm. It's likely that their Oscar nominated Kon-Tiki earned them the gig. Based on the real-life sailing expedition from experimental ethnographer Thor Heyerdahl, the film is a stirring, intense adventure with imagery of sea life that borders on the fantastical. Heyerdahl (Pål Sverre Hagen) risks his life and sanity to prove a theory about who settled Polynesia by sailing a balsawood raft 4,300 miles through the unforgiving Pacific. As an application for Pirates duty, it's a perfect storm: a human tale on a massive scale (the most expensive film in Norwegian history) set on the briny deep.
Before Night Falls
With Dead Men Tell No Tales, Javier Bardem continues his streak as America's favorite villain, playing the vengeful undead pirate hunter Armando Salazar. Back in 2000 (three years before the first Pirates came out!), Bardem exploded onto the scene with an Oscar nomination for his work as gay Cuban writer Reinaldo Arenas. Before Night Falls is a beautiful, challenging film that reveals destructive attitudes toward homosexuality while examining one man's relationships and understanding of himself. Bardem is a powder keg in it, and, for an added Pirates connection, Johnny Depp co-stars as a cross-dressing army lieutenant.
Captain Blood
The ultimate pirate movie. It wasn't nearly the first, and it wasn't the last, but Errol Flynn's portrayal as the dashing, good-hearted buccaneer created much of the language we still look for in our high seas thrills. Flynn played Peter Blood, a doctor convicted of treason for tending to a rebel lord's wounds and sold into slavery in Port Royal. He helps his fellow slaves escape, they steal a Spanish ship, and their life of piracy begins. Naturally he has a tumultuously sexy romance with the niece of the local governor (played with wit and charm by Olivia de Havilland). He also gets to kill people in duels, hang out with Basil Rathbone, and swing from ropes in large-scale battles. All with a cocky grin on his face. This movie is the best.
Give My Regards to Broad Street
If you thought it was weird that Sir Paul McCartney was going to cameo in Dead Men Tell No Tales, here's something weirder. Back in 1984, the former Beatle wrote and starred in this bizarre pop artifact of silly self-indulgence and harmless fun. McCartney, as a loosely fictional version of himself, daydreams after a former thief disappears with the master tapes to his new album (a pre-Napster pirate?). Give My Regards to Broad Street occasionally grabs a hold of the kind of cartoon energy that marked earlier Beatles movies, but it was more promotional tool than anything else, and Roger Ebert rightly called it "as close as you can get to a nonmovie."
Anne of the Indies
Striking fear into the hearts of all who travel the sea lanes, Captain Anne Providence is barbarous in her lust for plunder and violence. In a rare show of mercy, she allows a captured Frenchman to join her crew instead of walking the plank, and her budding romance with him marks the path toward tragedy. Jean Peters attacked the lead role with ferocity, and director Jacques Tourneur (who also did Out of the Past and Cat People) clearly understood the geography of blazing canons and forbidden romance. It's a fantastic example of the genre that fights back tooth and nail against all attempts to domesticate the wild souls who fly the skull and crossbones. Meanwhile, Depp axed the idea of having a female villain in Dead Men Tell No Tales.
Tomorrowland
In a parallel universe, Disney was able to replicate the smashing Pirates success on dry land with another theme park-inspired adventure, leading to the release of Tomorrowland 2 this summer. This blissfully optimistic view of the future where George Clooney and Britt Robertson hang out with androids and try to stop a world-killing Tachyon machine split critics exactly in half and busted at the box office. Its vision was ambitious. It was also original in the same way Pirates was: a loose tie-in to the theme park which cribbed classic genre tropes for a new package. With this, The Haunted Mansion, and the other earlier attempts, it's fascinating to see that Pirates was the only modern ride adaptation that took off. Maybe the key was its simplicity; it didn't let huge ideas get in the way of all the sword fighting.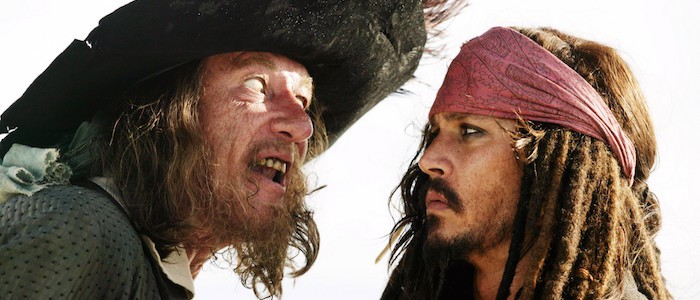 The Mix
The longevity of this franchise is maddening because the earlier entries were genuinely fun, and that potential still exists like a grain of sand irritating a beleaguered clam. Another Black Pearl is always possible. Yet Pirates is also a victim and cause of franchise bloat, struggling to recapture what made its initial thrills so engaging. It would be difficult for any fifth installment to feel fresh, but it's an especially steep challenge for a franchise bathed in a century of popular genre stories. Whether Dead Men Tell No Tales taps into that weather-worn exuberance of clashing steel and spraying seawater is a question for this weekend. The other big question, of course, is whether this will be the last of Captain Jack Sparrow's adventures.