Ron Perlman Gives His Blessing To 'Hellboy' Reboot Star David Harbour, Describes Abandoned 'Hellboy 3'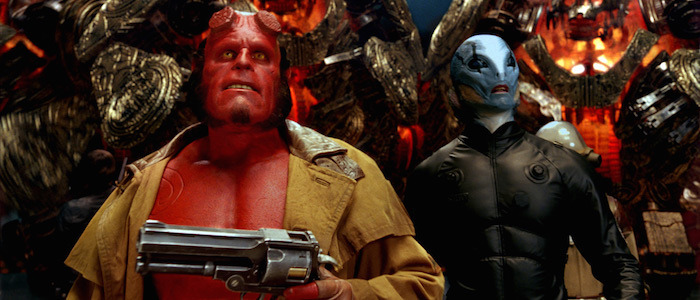 It's been nine years since fans last saw Mike Mignola's comic book character Hellboy on the big screen, and though there was a metric ton of discussion about another Guillermo del Toro-directed sequel, we know that his version of Hellboy 3 is never going to happen. But all is not lost: we learned earlier this month that Mignola is taking the character in a new direction with an R-rated movie reboot that features Stranger Things actor David Harbour taking over the title role from Ron Perlman. Now Perlman has weighed in on the new casting, given Harbour his blessing, and described the scope and intentions of the abandoned capper of his would-be trilogy.
Perlman recently showed up at Motor City Comic Con (via DreadCentral) and graciously passed the torch to Harbour for the Hellboy reboot:
"David Harbour is a good dude, man. I have nothing but love for that dude. I wish him nothing but the best when it comes to the retooling of HB."
He also spoke to the crowd there about what del Toro's version of Hellboy 3 would have felt like:
"The third one was meant to be epic and conclusive and a resolve for all these, almost, Greek oracle promises of the destiny of Hellboy. It would've made for a really good movie, I think."
That aligns with the actor's previous comments about the sequel, in which he said that Hellboy "has to take down civilization." Sure, it's a bummer that the dangling plot threads in Hellboy II: The Golden Army will never be resolved on the big screen, but maybe with time, del Toro and Mignola can mend their relationship one day and produce a comic that properly brings that story to an end and provides the closure fans are looking for. In the meantime, I'm excited about seeing an entirely different take on this character and a much darker, R-rated world that sounds like an excellent playground for director Neil Marshall.
Producers are aiming to begin filming the Hellboy reboot this fall in the hopes of releasing the finished movie next year, so we'll see if they're able to move quickly enough that fans won't have time to stew over a missed opportunity for very long. The best thing for Mignola and company is that the new film is A) very good and B) they reclaim the narrative from "what could have been" thoughts about Hellboy 3.