'Better Call Saul' Review: Who Came Out On Top In 'Expenses'?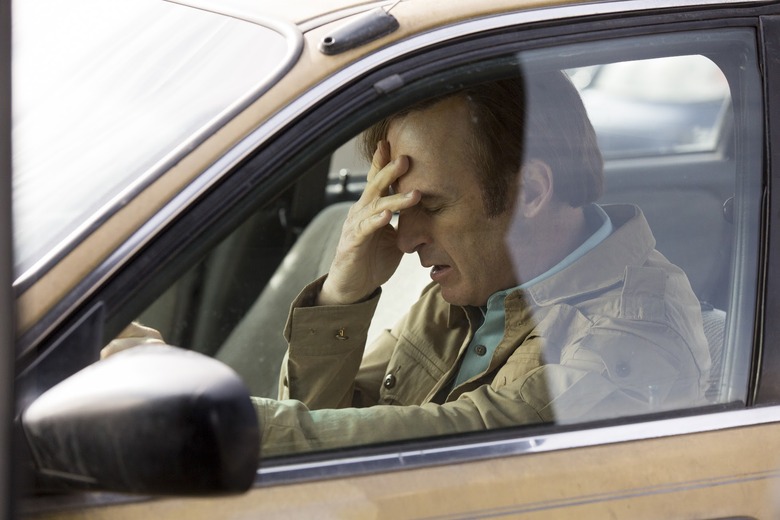 (Every week, we're going to kick off discussion about Better Call Saul season 3 by answering one simple question: who came out on top when the credits rolled?)
At this point in Better Call Saul, it's difficult to know whether or not we're supposed to root for Jimmy (Bob Odenkirk). Obviously, to a certain degree, we are. We're in his house, after all. He's hit rock bottom in "Expenses," and though we know he'll end up back on top (sort of) by the time Breaking Bad begins, it's become obvious that the path there is going to be a profoundly ugly one. "Expenses" plays like a partner to "Chicanery" as an episode that captures exactly just how naturalistic the drama at the center of it is. It's a show that's pared down and precise — the pain doesn't come from the near-operatic as it did in Breaking Bad, it comes from small, simple human foibles.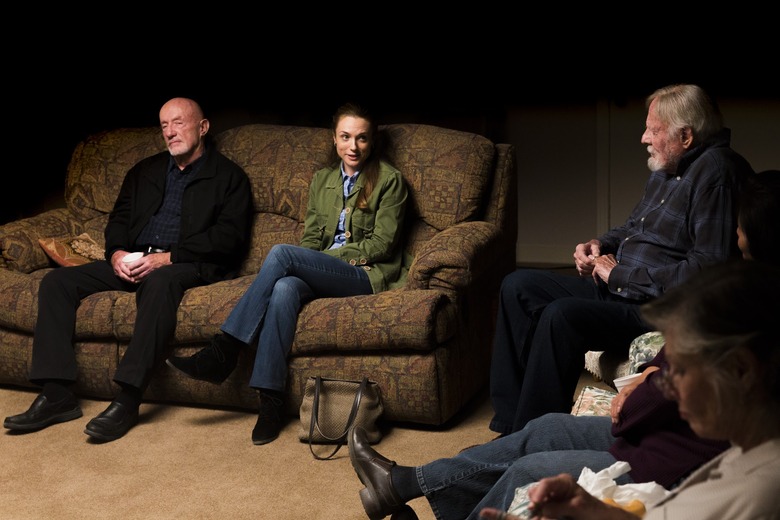 On Top This Week: Mike
The progression of Mike's (Jonathan Banks) storyline this week is a perfect dovetail of nature and nurture. We've already seen that he's happiest when he can contribute something of meaning — remember the handyman magazine we saw him reading after fixing up Chuck's (Michael McKean) door — and we see him crack a smile this week as he helps fix up the church playground where Kaylee plays. It's a rare moment of simple, uncomplicated happiness, and it's one of the rare instances in which it doesn't work against the show that we know where his story ends. Mike's death in Breaking Bad hit hard even given what relatively little we knew about him then; we're watching him pass by an out that might have afforded him a happily ever after instead of bleeding out by a riverbank.
There's a touch of tenderness to his thread this week, too, as he connects with Anita (Tamara Tunie) in a striking conversation about the nature of grief. She has to bear the pain of never knowing exactly what happened to her husband. By contrast, Mike knows exactly what happened to his son. Is it any easier, either way? Maybe it's this conversation, but he ultimately relents in his refusal to help Pryce (Mark Proksch) deal with Nacho (Michael Mando). Nacho wants Pryce to get him empty capsules of the medication that Hector (Mark Margolis) is taking in an effort to keep his father safe. Mike, it seems, is already thinking for Gus (Giancarlo Esposito) as well, walking Nacho through his plan and its flaws, as well as pointing out that it's not just Nacho who has to deal with Hector and his supply.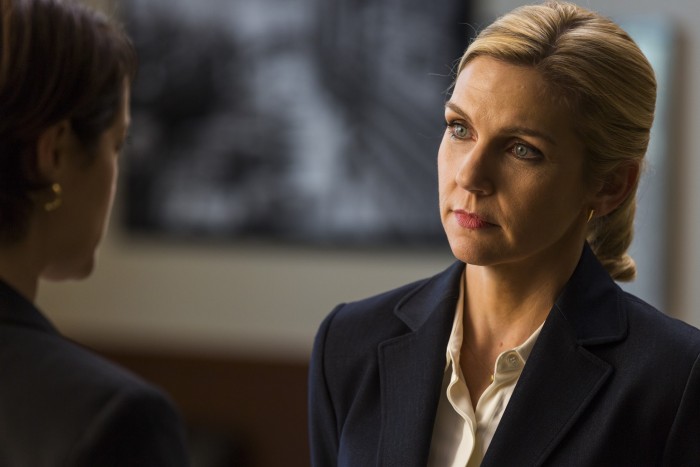 Fallacy of Sunk Costs
The last few episodes have seen a toll on Kim's (Rhea Seehorn) formerly unshakeable faith in Jimmy. As someone with both a fairly firm moral compass and the ability to be objective about the McGill brothers' fracas, she can see exactly how things are souring. It's a strain that's affecting her work with Mesa Verde as well, as she snaps during a meeting (and immediately apologizes for her behavior). Everyone around her is prompting her in some small way, shape, or form, to enjoy her victory over Chuck, but she knows that the fight wasn't fought fairly. "As far as I'm concerned," she says, "all we did was tear down a sick man." In other words, it's not necessarily a victory, and it's not necessarily a good thing, either.
The pyrrhic cost of it seems to be becoming more and more apparent to her, too, as evidenced by her reaction to the first Saul Goodman promo, and then when Jimmy takes her out and they start to posit scams to run on the people populating the bar around them. It's supposed to be a joke, but there's something niggling at Jimmy. They're not just fun hypotheticals for him; rather, he's exacting a kind of revenge, and it's an unpleasant revelation for Kim to see him turn so ugly. She manages to smooth the moment over, but Jimmy's already slipping from her grasp.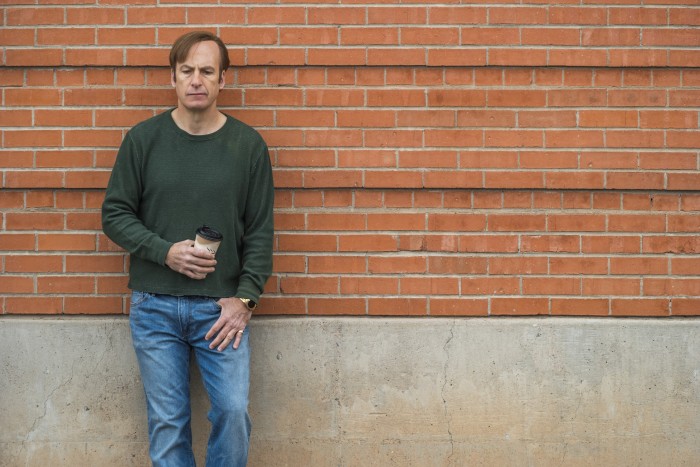 Calling Saul
"Expenses" sees Jimmy hitting rock bottom. He's unable to practice law for the next year, he doesn't really have any clients for his ad business, he's doing community service, he's draining his bank account in order to pay his half of the office expenses, and once he's able to practice law again, his insurance rates will skyrocket because of his suspension. He can't win. The episode digs deep into that sense of misery as every path Jimmy takes seems to be a dead end. To see him so defeated and exhausted is awful; as the rest of his film crew takes off, he sits on the curb. The make-up girl (Hayley Holmes) even tries to give him his money back, but — in a move that's perfectly Jimmy — he refuses it. She's earned it. Even at rock bottom, he's fundamentally good.
Or at least, he was. This episode provides us with a glimpse of the kind of cruelty that Jimmy's capable of as well. First, we see him tip a delivery boy just a dollar, telling him that he could just as easily tip him nothing in a move that mirrors that of his community service supervisor earlier, as he docked the four hours of work down to a half-hour because Jimmy had been on the phone. Then there's the aforementioned outing with Kim, before the episode closes on a scene that suggests that the Jimmy we knew is now completely gone. He tries to plead his case to an insurance officer about the malpractice insurance he's currently paying but cannot use given the fact that he can't practice. When she tells him she can't do anything for him, not to mention the fact that his rates will go up when he starts practicing law again, he starts to cry. It's an infinitely sympathetic moment until you realize what he's doing, at which point the tone shifts. As it becomes evident that he's faking it all, the scene turns sickening. What he's doing isn't for his own benefit, but to Chuck's detriment, as he tells her of Chuck's breakdown in court and, specifically, that it's all in the transcripts. His tears disappear as soon as he leaves her office, and the expression on his face isn't even one of triumph. It's a scowl more than anything else; it's mean in a way that we haven't seen Jimmy before, but I expect we'll see more of, now.