The Universal Monsters Franchise Is Now 'Dark Universe;' Watch The Logo With Danny Elfman's Score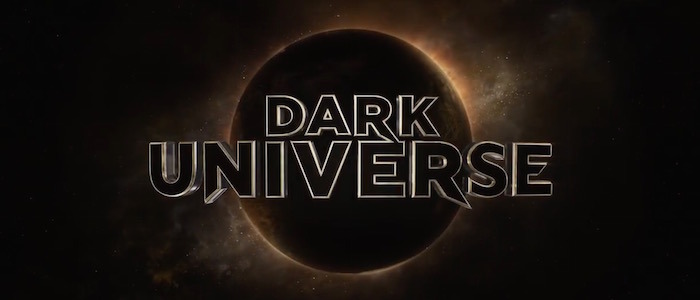 Universal Studios is going all-in on their new cinematic universe connecting all of their classic monsters. While The Mummy is set to kick things off next month, the studio has revealed that this franchise will be collected under a single banner called Dark Universe, which will have its own logo that will appear before each movie, complete with a musical theme composed by Danny Elfman. As you can see from the image above, the logo is a shadowy version of the traditional Universal logo. You can see the whole thing in action, and hear Elfman's bombastic fanfare, below.
First things first: someone at Warner Bros. is ticked off about this – Dark Universe is the working title of that Justice League Dark movie they are supposedly cooking up.
But now, let's movie on to the main attraction. The video below does reveal the Dark Universe logo, but the bulk of the time is spent on clips from classic Universal monster movies like Frankenstein, Dracula, The Mummy, The Invisible Man, and The Wolf Man. It's a reminder that these movies aren't just a vital building block in Universal's legacy, but some of the best horror movies ever made. These characters are iconic for a reason – few modern horror characters are as tragic, frightening, and human as this bunch.
Anyway, the Dark Universe logo itself is fine and I like Elfman's music more than I thought I would. Rather than go sinister and creepy, he goes melodramatic and bombastic, which actually feels appropriate for both the original movies and the new ones, which will reinvent these stories as action/adventure blockbusters (for better or worse).
Between Russell Crowe's Dr. Jekyll essentially being the Nick Fury of the Dark Universe and an opening logo that makes it clear that we're watching a movie set in a cinematic universe, Universal is aping the Marvel template in every possible way. That's not a condemnation – just an observation. They really want this to work and they're stealing from the company that does it the best.
The official press release includes this statement from Dark Universe "core creatives" Alex Kurtzman (also the writer and director of The Mummy) and Chris Morgan (one of Universal's favorite people after the ongoing success of the Fast and Furious movies), where they talk about respecting the Universal monster legacy and so on:
When Universal approached us with the idea of reimagining these classic characters, we recognized the responsibility of respecting their legacy while bringing them into new and modern adventures. The studio and our fellow creative collaborators have championed and challenged us as we've begun to spin the web of Dark Universe.  It's our hope these movies will engross longtime fans and spark the imaginations of brand-new ones.
Statements like this (not to mention videos full of 80-year old film footage) feel carefully assembled to win over nerds like me, people who stay up late at night and feel bad about what happened to the poor creature in The Creature Walks Among Us. I remain curious how normal audiences will react to this. While the monsters are certainly famous, Dark Universe could be a tough sell to people who aren't proper monster nuts. The chief concern seems to be angering the faithful while making movies that are big and slick enough events to pack theaters. It's a tricky path to walk and I, sincerely, from the bottom of my soul, hope they get it right. I love the Universal monsters too much to hope otherwise.
Anyway, the press release also reveals that Beauty and the Beast director Bill Condon has officially signed on to direct Bride of Frankenstein, which will be released on February 14, 2019. David Koepp will write the screenplay and the lead actress will be announced soon. Universal also revealed that they have vacated the April 13, 2018 release date they had earmarked for another Dark Universe movie, meaning that Bride of Frankenstein will be the second film in the series after The Mummy.
Condon, a Universal monsters aficionado who previously directed Gods and Monsters, a movie about Frankenstein and Bride of Frankenstein director James Whale, offered this statement:
I'm very excited to bring a new Bride of Frankenstein to life on screen, particularly since James Whale's original creation is still so potent. The Bride of Frankenstein remains the most iconic female monster in film history, and that's a testament to Whale's masterpiece—which endures as one of the greatest movies ever made.
The press release also revealed that Christopher McQuarrie, the director of Mission: Impossible – Rogue Nation and Jack Reacher, is now involved in Dark Universe, but did not elaborate on which projects he's working on.
To further prove their confidence in Dark Universe, Universal assembled the stars of the burgeoning franchise for a photo. While Tom Cruise, Sofia Boutella, and Russell Crowe all play major characters in The Mummy, they are joined by Javier Bardem and Johnny Depp, who have been cast as Frankenstein's monster and the invisible man. It's a clear statement: Universal isn't waiting for The Mummy to hit theaters to make it clear that we're going to be hearing about Dark Universe for some time.
We'll see how things get started when The Mummy hits theaters on June 9, 2017.