'Angry Birds 2' Will Fling Itself Into An Unstable Structure In 2019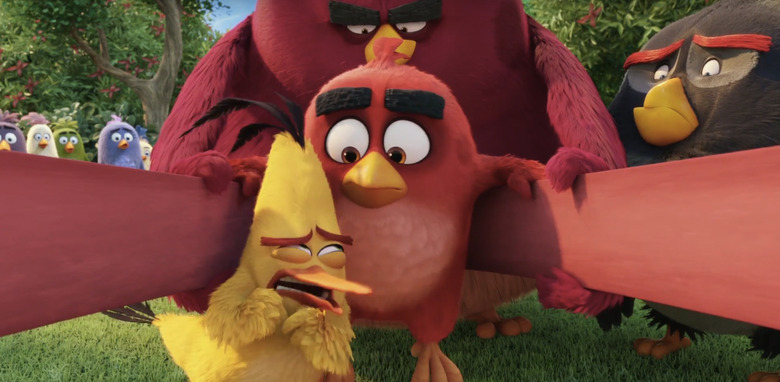 The Angry Birds Movie was only a modest hit at the domestic box office last year, but its international haul seemingly pleased the accountants at Sony. The studio has announced a sequel for 2019, just in case you need more stories about flightless birds voiced by comedians being flung in the direction of green pigs who live in poorly designed towers.Angry Birds 2 (which will probably have a different title at some point) will open on September 20, 2019, marking the ten-year anniversary of Rovio's original Angry Birds mobile game. Here's a statement on the matter from Kati Levoranta, CEO of Rovio Entertainment:
We are thrilled to be teaming up again with Sony Pictures after the fantastic cooperation in the first movie and I can't wait to experience the new journey in the upcoming film. Rovio is continuing to focus on creating exciting new stories and experiences around our games and we're eager to take fans back into the vibrant Angry Birds world on the big screen.
And here's a statement from Sanford Panitch, the president of Columbia Pictures:
The Angry Birds Movie took the world by storm last year, creating a whole new legion of fans worldwide. We had an incredible experience working with our friends and creative partners at Rovio, and now we – including our team at Sony Pictures Imageworks – are ready to launch into this next adventure.
As those boilerplate statements imply, we don't know too much about Angry Birds 2. Thurop Van Orman will direct, with John Rice (the lead storyboard artist on the first movie) co-directing. Peter Ackerman will write the screenplay. Sony Pictures Imageworks will collaborate with Sony Pictures Animation to bring the movie to life. There's no word on which members of the voice cast (which included Jason Sudeikis, Josh Gad, Danny McBride, Maya Rudolph, Kate McKinnon, Peter Dinklage, Bill Hader, and more) will return, but since human beings like collecting checks for a few days of work, expect most of them to come back.
While I've played my fair share of Angry Birds (often while hiding in the bathroom to dodge awkward family engagements), I have no deep and abiding love for this series and never got around to seeing the first movie. However, I know this is not the case for younger folks who have literally grown up with these games. While you won't see me getting excited about Angry Birds 2, I hope this movie is good and I hope it pleases everyone who has a genuine fondness for these characters. And I hope all of those comedians enjoy the new house extensions they'll buy soon.