Adam Sandler Gets Rave Reviews For His Latest Performance At The Cannes Film Festival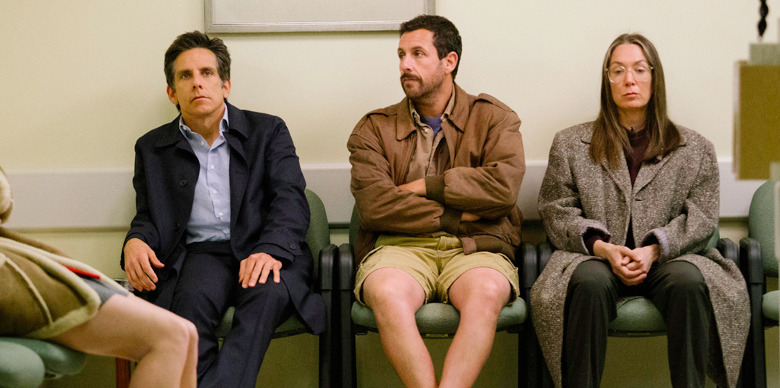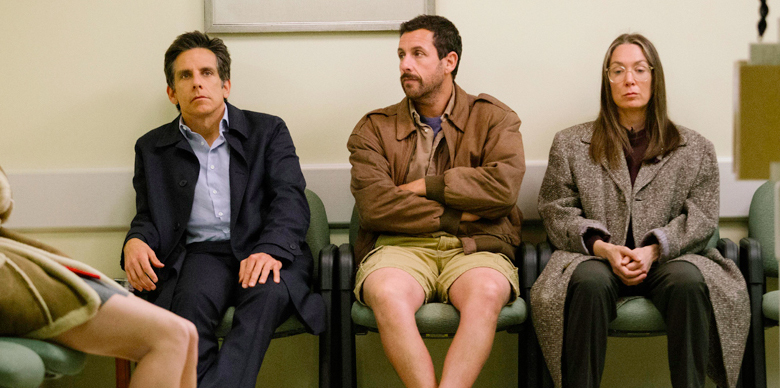 Adam Sandler has become an easy punching bag as he continues to make awful to mediocre comedies to fuel not just his career, but also the careers of his less talented comedian friends. But every now and then, Sandler reminds us that he can be a really good actor when taking roles in films like Punch-Drunk Love, Reign Over Me, Spanglish and to some extent, Funny People. It sounds like one of those movies just debuted at Cannes, and some are even saying it's a career-best performance.The Meyerowitz Stories (New and Selected) is a new film from writer/director Noah Baumbach (Greenberg, The Squid and the Whale, Frances Ha) that just debuted at the Cannes Film Festival as one of two titles playing in competition coming from Netflix. Adam Sandler stars in the film along with Dustin Hoffman, Ben Stiller, Candice Bergen and Emma Thompson, and the actor known for being a complete goofball is getting positively rave reviews.
Find out what some of the critics are saying in their The Meyerowitz Stories reviews.
A review from Variety offered this up after the film's premiere:
With no shtick to fall back on, Sandler is forced to act, and it's a glorious thing to watch — even for those fans who like him best in perpetual man-child mode (don't worry: the character is a full-grown variation on that familiar Sandler prototype).
Meanwhile, The Telegraph had this to say praising Sandler's performance:
Adam Sandler has been bad in so many awful films that when he's terrific in a great one, it's both a revelation and a windfall – like you're digging around at the back of the garden shed for the first time in years and find a Picasso propped up against the wallpaper steamer.
Sandler, in particular, is asked to go places he hasn't been as an actor since Punch-Drunk Love — and he gets there so seemingly effortlessly, and with such comedic precision and control of sentiment (the way he plays Danny's relationship with his daughter is delightful), you wonder what it would take for him to do it more often.
David Ehlrich at IndieWire takes a jab at Adam Sandler's recent Netflix movies while paying Sandler a compliment:
A noticeable improvement over Adam Sandler's previous three Netflix originals — in much the same way that a glass of Manischewitz is a noticeable improvement over drinking one of those ominous puddles that forms in the groove of a New York City subway seat — "The Meyerowitz Stories (New and Selected)" isn't the wittiest or most exciting movie that Noah Baumbach has ever made, but it might just be the most humane.
Finally, our friends at The Film Stage wrote:
Adam Sandler has acted in nearly 50 feature films, the majority of which he's played the lead. It won't come as any great surprise to learn that The Meyerowitz Stories (New and Selected) is amongst the best works of his career, comfortably scaling the lower denominators to reach those sparse upper peaks.
***
This is just a selection of reviews from critics who caught the movie at Cannes, but it's hardly a minority opinion. Plenty of other reviews are throwing out a lot of compliments towards Adam Sandler for his performance. It makes one wonder if his series of bad comedies is just a ruse so that when he finally makes a good movie, everyone rants and raves about it. Obviously, that's not the case, but it's good to hear that Adam Sandler hasn't entirely given up on putting effort into his acting career once in awhile.
The biggest question I have is if Adam Sandler can give this kind of performance, why isn't it something that happens more often? Why doesn't he put this kind of effort into making his comedies better? Does Sandler recognize that he doesn't have to put much effort into making his comedies in order for his fans to eat them up? Or does he think that the work he's putting forward in the comedy world is worthy of the same praise? At the very least, it's nice to know that Sandler can still surprise us after all these years.
The Meyerowitz Stories (New and Selected) will be released on Netflix, but there's no specific release date yet.