Drunken Adventures Return In 'Pirates Of The Caribbean: Dead Men Tell No Tales' Clips & TV Spots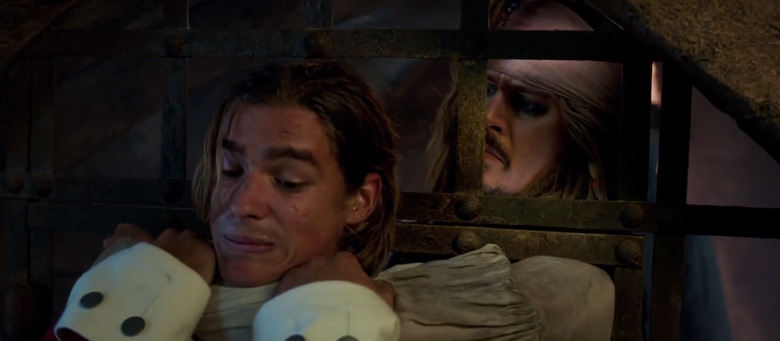 There hasn't been enough inebriated action coming from Walt Disney Pictures, but that will change soon now that a new Pirates of the Caribbean sequel is arriving in theaters this summer.
Pirates of the Caribbean: Dead Men Tell No Tales brings back Johnny Depp as Captain Jack Sparrow for another round of high seas adventure and drunken antics. In a batch of new clips and TV spots from the sequel, Jack Sparrow gets in trouble with the law yet again, and he's also being pursued by a cursed pirate hunter named Captain Salazar (Javier Bardem). Plus, he finds himself accompanied by Henry Turner (Brenton Thwaites) the offspring of his previous partner in piracy, Will Turner (Orlando Bloom).
Watch the new Pirates of the Caribbean Dead Men Tell No Tales clips and TV spots below.
Brenton Thwaites plays the son of Will Turner in Pirates of the Caribbean: Dead Man's Chest, and in this clip he finally meets the famous Captain Jack Sparrow, who went on several adventures with his father. He's not very impressed by the pirate though, since he's locked up in prison, has new crew, no ship and no pants.
Even though his meeting with Jack Sparrow wasn't quite what he expected, Henry Turner has decided to rescue the drunken pirate anyway as he's brought into a small village to be executed. Also being killed in the town square is Kaya Scodelario as Carina Smyth. We're not sure how she fits into the overall story yet, but we've seen her get rescued by Henry Turner in this sequence, and she might just get brought along for the ride because it's her best option at staying safe. What did she do to end up in this position anyway?
After escaping from their near-death experience, Captain Jack Sparrow, Carina Smyth and Henry Turner find themselves on an island (of course), and there they encounter Captain Salazar (Javier Bardem). He and his crew have some kind of curse upon them that keeps them from setting foot on land. As has been indicated in the trailers, Salazar believes Jack Sparrow to be the man responsible for this curse, and he wants revenge.
From these clips, we can see that the humor that comes from Jack Sparrow's eccentric behavior is still very much intact, and it feels a little more entertaining than the last outing. So far I just don't see anything that compels me to rush out and see this in theaters immediately. Yes, I'll see it simply because I try to stay up to date on most theatrical releases, but I'm just not excited to see it as soon as possible, even if the buzz on the movie is that it's surprisingly good.
For more footage from the high seas fantasy adventure sequel, watch these two new TV spots:
If you want to see more from Pirates of the Caribbean: Dead Men Tell No Tales, watch the theatrical trailer.
Johnny Depp returns to the big screen as the iconic, swashbuckling anti-hero Jack Sparrow in Pirates of the Caribbean: Dead Men Tell No Tales. The rip-roaring adventure finds down-on-his-luck Captain Jack feeling the winds of ill-fortune blowing strongly his way when deadly ghost sailors, led by the terrifying Captain Salazar (Javier Bardem), escape from the Devil's Triangle bent on killing every pirate at sea – notably Jack. Jack's only hope of survival lies in the legendary Trident of Poseidon, but to find it he must forge an uneasy alliance with Carina Smyth (Kaya Scodelario), a brilliant and beautiful astronomer, and Henry (Brenton Thwaites), a headstrong young sailor in the Royal Navy. At the helm of the Dying Gull, his pitifull small and shabby ship, Captain Jack seeks not only to reverse his recent spate of ill fortune, but to save his very life from the most formidable and malicious foe he has never faced.
Pirates of the Caribbean: Dead Men Tell No Tales arrives this week on May 26.