'How To Talk To Girls At Parties' Teasers: They Must Be From California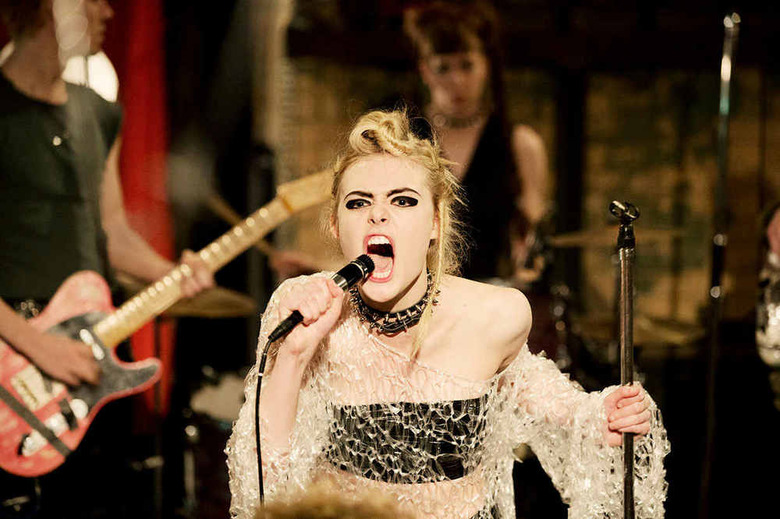 Neil Gaiman's comic book How to Talk to Girl at Parties is a fun read. It's also a very short read. If adapted faithfully, it'd probably be a great short film. The director behind Rabbit Hole and Hedwig and the Angry Inch, John Cameron Mitchell, had the freedom of adapting the story into a narrative feature film. He got to take the kernel of a story where he wanted to, and where he went with it looks like a blast.
Below, watch the How to Talk to Girls at Parties teasers.
Gaiman's comic followed two teenage buddies going to a party in 1970s London. The longer they hang around the party, the weirder it gets. In the end, the boys discover they're partying with aliens. Co-writers Mitchell and Philippa Goslet put a Romeo and Juliet spin on the story. Set in a day in the late 70s, Enn's (Alex Sharp) punk rocker friends and Zan's (Elle Fanning) alien family will fight to keep them apart.
Nicole Kidman, who looks wonderful in How to Talk to Girls at Parties, is the leader of the aliens. The film co-stars Ruth Wilson (The Affair) and Matt Lucas (Little Britain). Mitchell, Gaiman, and Fanning shared some of the first footage from the film on their Instagram accounts, just days before the movie premieres at the Cannes Film Festival.
Go to @johncameronmitchell and @neilhimself to see the other teasers!!!!! THIS MOVIE IS ALIEN PUNK FUN!!!! ????????????????????#howtotalktogirlsatparties #tinypinkflower ????#cannes2017 @alexanderiansharp1 !!!!!
A post shared by Elle Fanning (@ellefanning) on
Holy punking fuck! Take a leak at your first peek of HOW TO TALK TO GIRLS AT PARTIES A post shared by John Cameron Mitchell (@johncameronmitchell) on
What's Punk? How to Talk to Girls at Parties is screening at Cannes on Sunday. More teaser films from @ellefanning and @johncameronmitchell...
A post shared by Neil Gaiman (@neilhimself) on
It's been simply too long since we've seen a John Cameron Mitchell film. It's not easy these days getting movies like How to Talk to Girls at Parties produced, hence the unfortunate seven-year-old long wait after Rabbit Hole. Thankfully, it looks like Mitchell is back with what looks like a high-spirited and tender punk rocker-alien love story.
Here's the synopsis:
John Cameron Mitchell, director of the acclaimed films Hedwig and the Angry Inch and Shortbus takes us to an exotic and unusual world: suburban London in the late 70s. Under the spell of the Sex Pistols, every teenager in the country wants to be a punk, including our hopeless hero Enn (Alex Sharp). Crashing local punk queen Boadicea's party, Enn discovers every boy's dream – gorgeous foreign exchange students. When he meets the enigmatic Zan (Elle Fanning), it's love at first sight.
But these teens are, in fact, aliens from outer space, sent to Earth to prepare for a mysterious rite of passage. When their dark secret is revealed, the love-struck Enn must turn to Boadicea (Nicole Kidman) and her followers for help in order to save the girl he loves from certain death. When the punks take on the aliens, neither Enn's nor Zan's universe will ever be the same again.
How to Talk to Girls at Parties opens in theaters later this year.