The Weird Reason Johnny Depp Nixed A Female Villain For 'Pirates Of The Caribbean 5'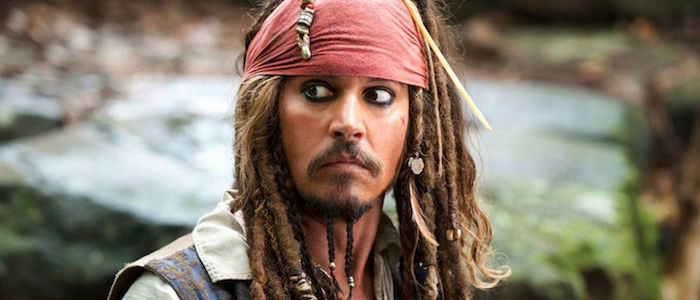 Yes, there's somehow a fifth Pirates of the Caribbean movie coming out later this month. But somehow, despite the fact that it's been six years since the fourth film was released and On Stranger Tides seems to have left absolutely no cultural footprint whatsoever, the upcoming Dead Men Tell No Tales is apparently surprisingly good.
Below, you'll find the first clip from the film, and learn the bizarre reason why star Johnny Depp reportedly threw out an early draft of the movie that featured a female villain.
First, take a quick look at the film's first clip, which precedes an interview segment on Jimmy Kimmel Live in which Depp discusses the time he dressed as Captain Jack Sparrow and surprised tourists at Disneyland.
But the more fascinating piece of info comes from writer Terry Rossio, who has a writing credit on every Pirates film thus far (including the new one). MoviePilot noticed a relevant section of a blog post from last year in which Rossio explains that Depp vetoed the idea of a Pirates 5 female villain. I'll let the screenwriter explain why:
The original title of this column was planned to be World Creation Subject to Whim Destruction. Which I think is a pretty accurate summation of the job of screenwriting in general. [...]
More recent examples: my television series "Magical Law" lapsed when Gore Verbinski decided to direct "The Lone Ranger" instead. Our theatrical feature "Lightspeed" was put on the back burner when Disney acquired the "Star Wars" franchise. My version of 'Dead Men Tell No Tales' was set aside because it featured a female villain, and Johnny Depp was worried that would be redundant to "Dark Shadows," which also featured a female villain.
Of course there is also the possibility that all those screenplays simply sucked. But usually when I go back to read a screenplay that wasn't produced, it holds up, often better than the film that was eventually produced. Sometimes it just takes a single decision by a single person, often just a whim, to destroy years of story creation and world-building.
Wow. Does it even need to be said how patently ridiculous that justification is? And come on – putting aside the super sketchy logic going on here, not enough people saw or remember Dark Shadows for this to be a valid concern anyway. In fact, I'd much rather see Dark Shadows' true star, Eva Green, as an awesomely evil villain in a Pirates movie than Javier Bardem in a similar role.
It seems unlikely that Rossio would simply make a story like this up, especially when it involves a franchise he's actively working for being portrayed in not the best light. Maybe the female character he wrote didn't work, and there was a misunderstanding about why Depp didn't want her involved. But on the surface, this certainly seems like the latest in an ever-growing list of examples of Hollywood flippantly removing opportunities for women. It's disheartening and disappointing, but sadly, I can't say it's all that surprising.
Pirates of the Caribbean: Dead Men Tell No Tales sails into theaters on May 26, 2017.