'Wonder Woman' Early Buzz: Gal Gadot And Chris Pine Shine In A Terrific Superhero Movie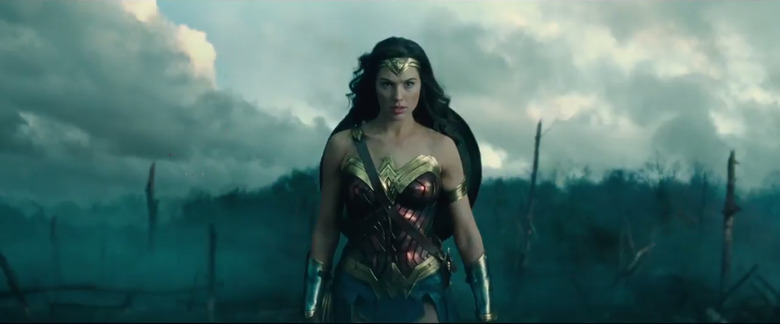 Warner Bros.' DC Extended Universe has been a thoroughly mixed bag so far, dividing critics and audiences alike. Man of Steel, Batman v Superman: Dawn of Justice, and Suicide Squad were all financial hits, but the mixed-to-negative reactions suggested that something was amiss. What had to be done to get everyone to rally around one of their films?
Make a Wonder Woman movie directed by Patty Jenkins and starring Gal Gadot, it seems. The first reactions to the new film have arrived and they're almost unanimously positive, showering praise on both of the film's lead performers as well as its hopeful and inspiring tone.
First of all, /Film's editor-in-chief Peter Sciretta saw Wonder Woman and he was won over by the film. Like everyone else, he was especially entranced by Gadot's performance and like most everyone else, he made sure to call out the strong chemistry between her and Chris Pine.
I can finally tell you.. Wonder Woman is a very good film. Funnier, more action packed than you're probably expecting. Gal is perfect as WW!

— /Film (@slashfilm) May 19, 2017
Was expecting to hate the relationship stuff, loved it. The fish out of water dynamic between Gadot and Pine make this film shine.

— /Film (@slashfilm) May 19, 2017
Wonder Woman is the kick ass female-led blockbuster everyone was hoping Ghostbusters would be.

— /Film (@slashfilm) May 19, 2017
While full reviews are still under embargo, critics were allowed to share their thoughts on social media last night and you'd be hard-pressed to find a truly negative reaction. While some of the responses take note of villain problems and issues with the film's climax, these are generally treated as quibbles that will be further addressed in a full review. It seems that the film's focus on heart, humanity, and humor (as well as the glossy superhero action you'd expect) outweighs all else. Everyone seems to not only like Wonder Woman, they seem happy to have liked Wonder Woman.
Quite frankly, as someone who loves DC superheroes but hasn't liked the past two DCEU movies, reading the first wave of reactions to the film made me breathe a literal sigh of relief. It's about time we got a female-led superhero movie and it feels nice to hear that her movie is actually good!
Let's take a look at some of the reactions.
I am so relieved that #WonderWoman is actually good, and kind of annoyed that it's something I have to be relieved about.

— Angie J. Han (@ajhan) May 19, 2017
Happy to report 'Wonder Woman' is a blast and @GalGadot is fantastic. Her chemistry with Chris Pine is magnetic. Absolutely recommended. pic.twitter.com/VPW4QW3IhM

— Steven Weintraub (@colliderfrosty) May 19, 2017
Loved WONDER WOMAN. She reminds me of Christopher Reeve's Superman: true north superhero w/ no angst or cynicism, which is needed right now.

— Mike Ryan (@mikeryan) May 19, 2017
Also @GalGadot is PERFECT as #WonderWoman! I can't wait for you guys to see this film! #SheIsWonderWoman

— Jenna Busch (@JennaBusch) May 19, 2017
2. Gal Godot is absolutely phenomenal as #WonderWoman. She KILLS it, just surprisingly good. A truly heroic light DCEU desperately needs.

— Alisha Grauso (@AlishaGrauso) May 19, 2017
WONDER WOMAN is great. My favorite of the recent DC movies. It's fierce, funny, well-written and badass. @GalGadot owns it. Her lasso FTW pic.twitter.com/rQ0ufZxWXP

— Erik Davis (@ErikDavis) May 19, 2017
#WonderWoman is the easily the best DCEU movie so far. It's got heart and a love of heroes. Pine and Gadot are charming beyond measure.

— Haleigh Foutch (@HaleighFoutch) May 19, 2017
Wonder Woman is the DC movie I've been waiting for. It's exciting, inspiring, funny, and has some truly awe-inspiring action scenes.

— Germain Lussier (@GermainLussier) May 19, 2017
Our own @JimmytotheO has seen #WonderWoman! He calls it "Fantastic! As touching as it is thrilling!" Full review soon! pic.twitter.com/9ZfpiQdV6L

— JoBlo.com (@joblocom) May 19, 2017
#WonderWoman is hands down the best DCEU Film to date! Film is SO GOOD. I absolutely loved it! Bravo @PattyJenks @GalGadot @GeoffJohns 👏🏽⚔️

— Umberto Gonzalez (@elmayimbe) May 19, 2017
My reaction to @WonderWomanFilm : exciting, powerful, bold, epic, simply wonderful and – best of all – absolutely empowering.

— Courtney Howard (@Lulamaybelle) May 19, 2017
I'm now allowed to reveal I enjoyed Wonder Woman! It's really good. Has the heart & humanity DCEU needed. I'm not reviewing it FYI pic.twitter.com/Tmm9l8aOrQ

— Jim Vejvoda (@JimVejvoda) May 19, 2017
You are about to find out that WONDER WOMAN is pretty good until the disastrous third act.

— Jeremy Smith (@mrbeaks) May 19, 2017


Wonder Woman stars Gal Gadot as the Diana Prince (otherwise known as Wonder Woman), Chris Pine as Steve Trevor, Robin Wright as General Antiope, David Thewlis as Sir Patrick, Connie Nielsen as Queen Hippolyta, Elena Anaya as Doctor Poison, Lucy Davis as Etta Candy, and Danny Huston as General Erich Ludendorff. The film itself doesn't open in theaters until June 2, 2017, but the fact that Warner Bros. is letting people share their thoughts on the film this early suggests that the studio knows they have a winner on their hands.