Singer Chris Cornell Has Died At 52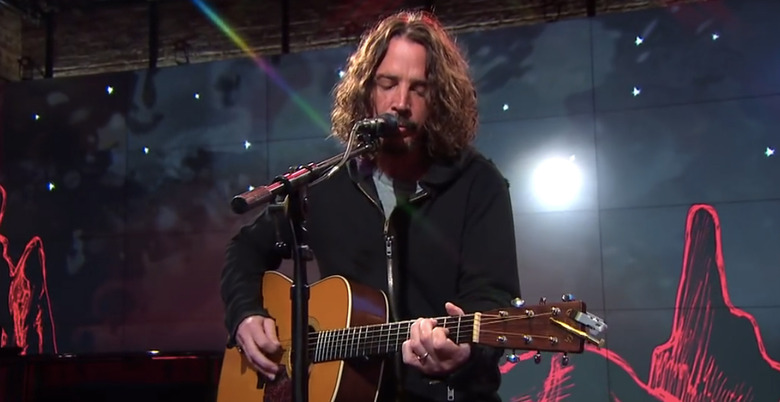 When James Bond returned to the big screen with Daniel Craig in the lead role of Casino Royale in 2006, the new run of 007 movies needed a theme song to bring the franchise into the 21st century the right way. Sony Pictures and MGM called upon Soundgarden and Audioslave frontman Chris Cornell's signature growling singing voice to make it happen, and he created what I think is one of the better James Bond theme songs of the entire series.
Therefore, we're sad to report that the rock musician and singer has passed away suddenly at the young age of 52 after performing with Soundgarden in Detroit last night. 
News of Chris Cornell dead came from The New York Times this morning with the musician's representative Brian Bumbrey calling the death "sudden and unexpected," adding that Cornell's family would be "working closely with the medical examiner to determine the cause." Since the news surfaced, Detroit police have informed The Associated Press that they are investigating his death as a possible suicide after a family friend found him in his MGM Grand hotel room with some kind of band around his neck.
Chris Cornell's work on Casino Royale is just the tip of the iceberg that was his career in rock. He founded the band Soundgarden in 1984, but they wouldn't find big fame until 10 years later when their album Superunknown launched them onto the charts with the singles "Black Hole Sun" and "Spoonman." They were one of the most influential rock bands of the 1990s.
In the late 1990s, Chris Cornell began a solo career that would eventually span five albums. Though his solo career never took off in the same way that Soundgarden did, the music was just as good as you would expect from Cornell, powered by his unique voice. If you haven't heard his outstanding cover of Michael Jackson's song "Billie Jean," you should listen to it right now.
In addition to his solo career, Cornell went on to form the rock supergroup Audioslave with Rage Against the Machine band members Tom Morello, Tim Commerford and Brad Wilk. They delivered hit singles such as "Cochise" and "Like a Stone" and their self-titled debut album was nominated for Rock Album of the Year at the Grammy Awards. Sadly the band broke up in 2007, but they got back together 10 years later for a show this past January in direct protest of the presidency of Donald Trump.
The loss of Chris Cornell is a big one for the music community, and it's even more tragic if the musician chose to take his own life. But the musician left behind a legacy of rock to inspire future generations of musicians.
If anyone you know is suffering from depression and is contemplating suicide, don't hesitate to reach out and help them.