'Okja' Trailer: Family Adventure Meets Corporate Espionage In Bong Joon-Ho's New Netflix Film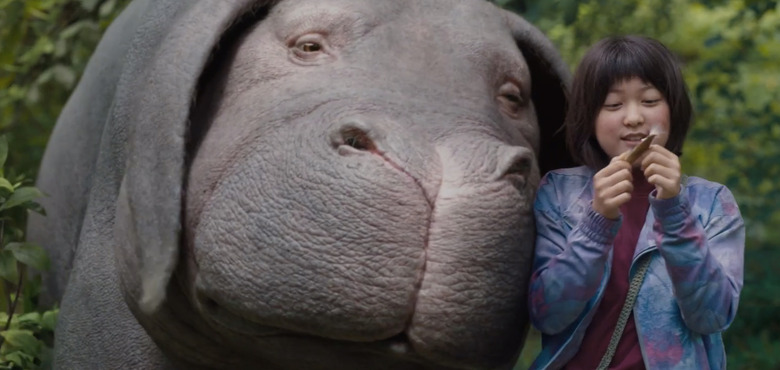 There have been plenty of movies where an unsuspecting kid stumbles upon some kind of friendly creature, only to have the government or some greedy corporation want it for their own purposes. However, you've never seen that story in the hands of a director like Bong Joon-ho (Snowpiercer).
Okja can best be described as E.T. The Extra Terrestrial meets Michael Clayton with a bit of Heat thrown in there for good measure. A young girl finds her hippopotamus-like friend Okja taken away from her home in the mountains of South Korea in order to be turned into a food source by the Mirando Corporation that has the potential to feed millions of people around the world. What follows is a plan to get her back involving a big heist that will expose all the shady dealings this company has been partaking in.
Watch the Okja trailer below
There's no other way to describe this other than dark and delightful. It has flares of Snowpiercer in how it mixes poignant social commentary with a sci-fi concept while also blending humor, suspense and action. There's also plenty of The Host, because Bong Joon-ho loves a good movie monster. It's undoubtedly unique, and it's a shame that director Pedro Almodovar, who is a jury member at the Cannes Film Festival, says he won't consider any Netflix movies for the Palmes d'Or, the highest honor the French film festival can dole out. But that's a conversation for another day.
The cast of Okja includes Ahn Seo-hyun, Tilda Swinton, Jake Gyllenhaal, Paul Dano, Steven Yeun, Lily Collins, Devon Bostick, Byun Hee-bong, and Shirley Henderson. But it looks like that big, fat creature is going to be the real star of the movie. They better not cut him up into meat.
For 10 idyllic years, young Mija has been caretaker and constant companion to Okja—a massive animal and an even bigger friend—at her home in the mountains of South Korea. But that changes when a family-owned multinational conglomerate Mirando Corporation takes Okja for themselves and transports her to New York, where image obsessed and self-promoting CEO Lucy Mirando has big plans for Mija's dearest friend.
With no particular plan but single-minded in intent, Mija sets out on a rescue mission, but her already daunting journey quickly becomes more complicated when she crosses paths with disparate groups of capitalists, demonstrators and consumers, each battling to control the fate of Okja...while all Mija wants to do is bring her friend home.
Okja is premiering at Cannes this month and will hit Netflix and limited theaters on June 28.