'The Alienist' Trailer: Luke Evans, Daniel Brühl And Dakota Fanning Go Looking For A Killer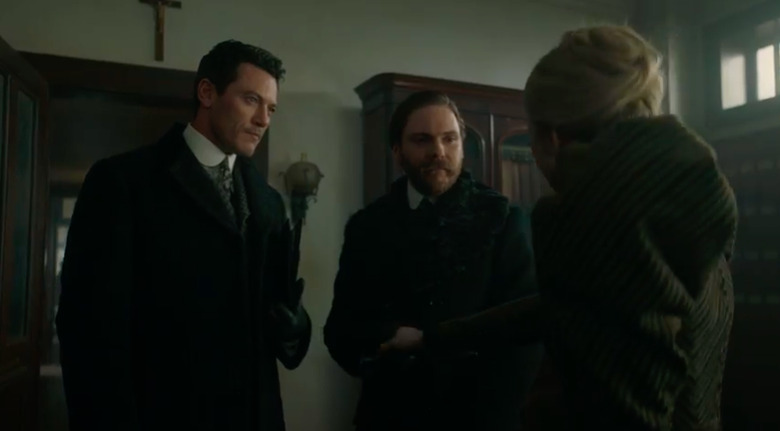 The director of True Detective season one and Beasts of No Nation, Cary Fukunaga, was originally going to executive produce and direct The Alienist. After some delay, Fukunaga dropped out directing the TNT miniseries based on Caleb Carr's novel. He did, however, remain involved as an executive producer in the drama, which stars Dakota Fanning, Luke Evans (High-Rise), and Daniel Brühl (Rush).
Below, watch The Alienist trailer.
Jakob Verbruggen, who directed the Black Mirror episode "Men Against Fire," ended up helming episodes of The Alienist instead of Fukunaga. Screenwriter Eric Roth (The Insider) is an executive producer on the series written by Hossein Amini, who wrote Drive and directed the pretty good adaptation of The Two Faces in January.
Some great talent are involved in the series about the search for a serial killer in 1896 New York City. A criminal psychologist/alienist, Laszlo Kreizler (Brühl), a newspaper illustrator John Moore (Evans), and a secretary at the Police Headquarters, Sara Howard (Fanning), investigate who's behind the ghastly murders of young boy prostitutes.
Here's the trailer for The Alienist, which is 10 episodes long:
The Alienist is the kind of pitch dark and grisly material the True Detective director probably could've worked his magic with. Even without Fukanaga behind the camera, the TNT series looks like another compelling murder mystery dealing with obsession. It definitely doesn't come across as a stuffy period in the trailer. The three leads are a draw as well. Evans, in particular, has been doing especially good work lately, with Beauty and the Beast and his surprising and disturbing turn in High-Rise
As for Fukunaga, the director and all involved couldn't agree on a budget for The Alienist. Once a figure was decided, it took long enough for the TNT project to clash with the director's other commitments. He left the series to focus on making another film, The Black Count, and Netflix's Maniac.
Here's the official synopsis for The Alienist:
The Alienist is an upcoming American drama television series based on the novel of same name by Caleb Carr. The psychological thriller drama is set in 1896, when a series of gruesome murders of boy prostitutes has gripped the city. Newly appointed top cop Teddy Roosevelt calls upon Dr. Laszlo Kreizler, a criminal psychologist — aka alienist — and newspaper illustrator John Moore to conduct the investigation in secret. Joining them in the probe is Sara Howard, a headstrong secretary at Police Headquarters.
The Alienist is expected to premiere later this year on TNT.