Michael Moore's 'Fahrenheit 11/9' Will Take On Donald Trump; New TV Series Announced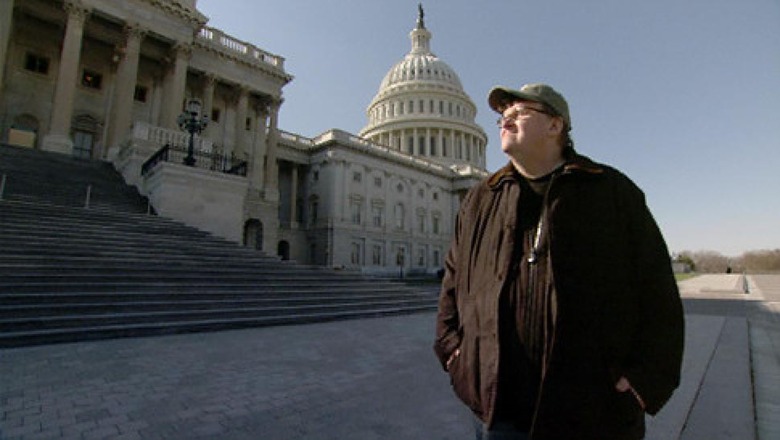 Michael Moore Announces Fahrenheit 11/9
Harvey Weinstein, speaking from the Cannes Film Festival, announced that he is reteaming with documentary filmmaker Moore for a new movie, Fahrenheit 11/9. The film's title is a reference to three things:
November 9, 2016, the day that Donald Trump became president-elect of the United States.
Moore's 2004 film Fahrenheit 9/11, which remains as the highest-grossing documentary film of all time with $222.4 million on a budget of only $6 million.
Ray Bradbury's 1953 novel Fahrenheit 451, which features a dystopian view of the future United States.
Weinstein issued the following statement on Tuesday:
"There is no greater part of what we can do right now than to have the power to bring Michael Moore to a mass audience. When we had the opportunity to work with him on Fahrenheit 9/11, we were so persistent that we ultimately had to part ways from Disney and we lost our beloved Miramax, named after our parents, because we believed so strongly in the message. The movie broke all records then, and we plan to do so again. This movie will have one of the most innovative distribution plans ever. Now more than ever, Michael's appetite for the truth is crucial. We are ecstatic to be a part of this revolution."
Moore issued the following statement (which features some big words):
"No matter what you throw at [Trump], it hasn't worked. No matter what is revealed, he remains standing. Facts, reality, brains cannot defeat him. Even when he commits a self-inflicted wound, he gets up the next morning and keeps going and tweeting. That all ends with this movie."
I'm a big fan of Moore's films and I think even he would admit that the best of the them come from a place of outrage and passion, like Roger and Me, Bowling For Columbine, Fahrenheit 9/11, and Sicko. Moore's most recent wide-release Where to Invade Next was an okay film mixing ideas the filmmaker has been spouting for years, but it earned just $3.8 million when it was released theatrically in February 2016. That's a lot for a doc, but far less than some of his other movies.
This won't be the first time Moore has taken on Donald Trump on film. He shot a one-night live performance which he released in advance of the election called TrumpLand, which notably predicted that Donald Trump would win the election in a time when the polling indicated otherwise. That 73-minute film played for one night on October 19, 2016 in 51 theaters, earning $149,090 before playing on a variety of digital platforms.
My only worry is that this new documentary may be quickly assembled and not as deep-diving as Fahrenheit 9/11. We live in such different times, and I somehow doubt that Moore will uncover unaired footage of Trump that hasn't already been seen on the news or found its way online. Fahrenheit 9/11 notoriously uncovered new footage of president George W Bush being told about the 9/11 attacks while reading books for a classroom of children. The footage was pretty damning as the president kept reading books for the children for seven minutes after being told the nation was "under attack." We've heard rumors of various tapes featuring Trump; it will be interesting to see if Moore can uncover any of the rumored recordings.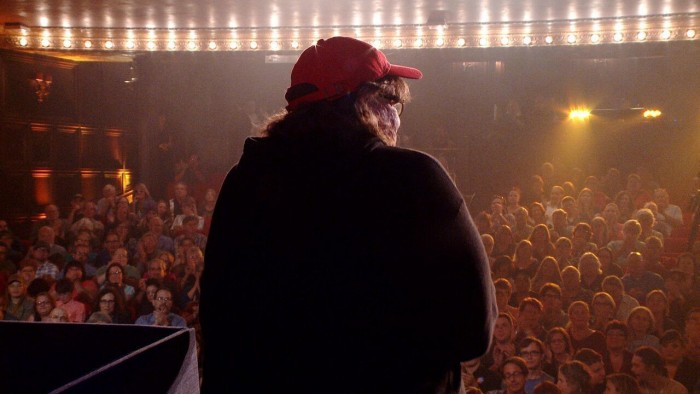 Michael Moore Returns to TV
But the cinema is not the only arena where Michael Moore is going to wage this war. The filmmaker has announced he will be returning to television with a new TNT series tentatively titled Michael Moore Live From the Apocalypse. The show is set to premiere in late fall, will be "a raucous gathering place for millions of our fellow citizens in desperate need of a break from the screaming pundits and the purveyors of 'alternative facts." Moore said in a statement. He added:
"Our show will be dangerous and relentless. And it will be the destination for those who want to know what's really going on and what they might be able to do about it."
The show will take on everything from Washington politics to Wall Street, with Moore directing and starring in the series, which he will also executive produce alongside frequent collaborator and Oscar-nominee Meghan O'Hara (Sicko). The Daily Show/30 Days producer Nick McKinney will run this ship. Here's an official description:
"In the series, Moore and his merry band of journalists, pranksters and citizen-rebels will fearlessly go where the mainstream media and political hacks of both parties are afraid to go. The series will dive deep into the abyss of Washington, stalk the scions of Wall Street and crash the playgrounds of America's wealthiest 1% – and they'll do it by not just flying over the Heartland. No one in power will be spared either the unblinking lens of Moore's camera nor the sting of his pointed satire."
Michael Bloom, senior vice president of unscripted series and specials for TNT and TBS, issued the following statement:
"Michael Moore has proven himself to be a master at exposing the truth behind American politics, Wall Street abuses and economic injustice. His powerful and unique voice combines truth and humor on all sides of an issue."
Live From the Apocalypse is Moore's first regular television show since The Awful Truth went off the air in 2000. Before that, he earned a Primetime Emmy for TV Nation. Both of those shows were very ahead of their time, and could have easily seen similar success to The Daily Show if they were presented just a few years later. If you have the time to find old episodes of this series, I recommend you check them out, as some of the best segments are still just as relevant today as they were two decades ago.