'The Greatest Showman' Photos: Hugh Jackman Takes Center Stage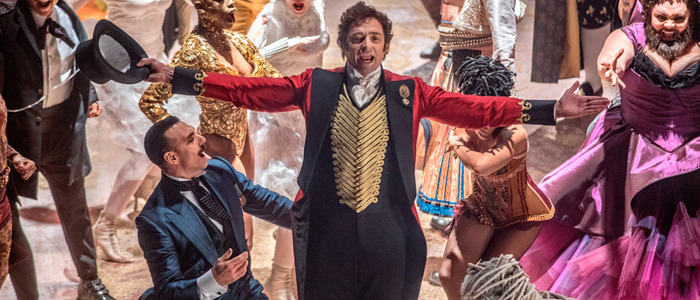 Hugh Jackman showed the world he was a true song and dance man when he hosted the Oscars back in 2009, and not long after that performance, 20th Century Fox gave the greenlight to the actor's passion project: a biopic called The Greatest Showman about famous huckster and circus magnate P.T. Barnum. Commercial director Michael Gracey was hired to direct, but he had one suggestion for the project, which was originally pitched as a straightforward biopic: "I said, 'If you're going to call it The Greatest Showman, you should play to your strengths and we should make it a musical.' That ridiculous remark cost me seven years of my life."
It's safe to say Jackman has been a little busy during that time, but the movie is finally set to come out later this year, and EW has given us our first look at it with a batch of new images. Check out the first The Greatest Showman photos below.
The Greatest Showman Photos
Take a gander at these images, which yet again prove that Jackman can rock a mid-1800s wardrobe with the best of them. With the stage work and the vests, I'm getting a heavy The Prestige-y vibe from the costume design:
These photos also include our first looks at Baywatch's Zac Efron, Mission: Impossible – Rogue Nation breakout Rebecca Ferguson, and Spider-Man: Homecoming star Zendaya, doing some swinging of her own as a trapeze artist in this biopic of P.T. Barnum, one of America's biggest hucksters and the founder of Barnum and Bailey Circus. Michelle Williams is also along for the ride, but she's absent from this particular batch of pics.
"Up until La La Land, everyone was saying there hasn't been an original musical in 23 years," the actor told EW. "So the prevailing thought in Hollywood was, unless you have a brand people know, it's not a done thing. So it just took a long time." Reading between the lines there, it sounds like he might be just slightly bitter that La La Land beat them to the punch, but considering how our own Peter Sciretta reacted to some early footage shown at this year's CinemaCon, it sounds like it will be worth the wait.
"The Greatest Showman" is a bold and original musical that celebrates the birth of show business and the sense of wonder we feel when dreams come to life. Inspired by the ambition and imagination of P.T. Barnum, "The Greatest Showman" tells the story of a visionary who rose from nothing to create a mesmerizing spectacle that became a worldwide sensation. It's is directed by exciting new filmmaker, Michael Gracey, with songs by Academy Award winners Benji Pasek and Justin Paul ("La La Land") and starring Academy Award nominee Hugh Jackman. Jackman is joined by Academy Award nominee Michelle Williams, Zendaya, Zac Efron and Rebecca Ferguson.
The Greatest Showman arrives in theaters on Christmas Day.