A 'King Kong' Broadway Musical Will Stomp Through New York In 2018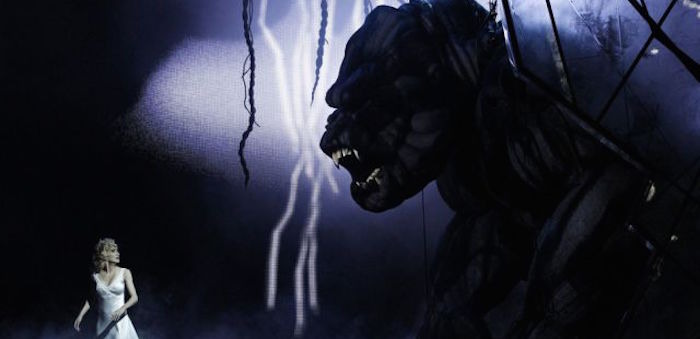 In 1933's King Kong, the great ape of Skull Island is taken from his home and put on Broadway by film director Carl Denham, a stage performance that ultimately ends in disaster and destruction. Kong escapes and wreaks havoc across New York City, eventually climbing the Empire State Building and falling to his death.
Now, "the eighth wonder of the world" is returning to the New York stage. But instead of running and screaming, there will be singing and dancing. Yes, a King Kong musical is set to make its Broadway debut in 2018.
This show is an update on an Australian stage production that debuted in 2013 and met with mixed reviews – the show's technical aspects were lauded as the songs and script were criticized. So it's no surprise that the Broadway version is seeing a substantial overhaul. The original director, cast, and book writer have been replaced. Original composer and arranger Marius de Vries is one of the few members of the creative team still on board this version.
The new book will be penned by Jack Thorne, the Olivier Award-winning playwright best known for adapting Let the Right One for the stage and collaborating with J.K. Rowling for the smash-hit Harry Potter and the Cursed Child (also due on Broadway next year). Olivier Award-winner Drew McOnie (of Strictly Ballroom and In the Heights fame) will direct. Songwriter Eddie Perfect, who is also currently working on a Beetlejuice musical, will contribute new songs. The original production brought Kong to life through a massive figure controlled by puppeteers and aerialists and as you can see in the video below, it's pretty impressive work:
Much of the original design team have remained with the show, so the Broadway version should look similarly impressive.
Producer Roy Furman offered this statement:
King Kong is a quintessential New York story and I'm proud to be involved in this historic production. Our team is creating a theatrical experience that we hope will astound audiences, while delighting them with its heartfelt storytelling.
While I sometimes roll my eyes at the number of movies being adapted into Broadway musicals these days (it feels like the safest, least interesting bet), King Kong is a story that feels ripe for the format. The story of Kong is tragedy at its finest, a tale that practically begs for its characters to break into song to reflect the depths of their feelings. While Peter Jackson's 2005 remake did a fine job of selling the bond between Ann Darrow and the big ape, their relationship really could use a showstopper or two to explain how an unemployed actress and a giant monster become kindred spirits.
There's no premiere date for the King Kong musical yet, but it will open at Broadway Theatre in the Fall of 2018. Here's a song from the original show, just in case you're curious (after all, it won't be in the rewritten version).