See The Entire 'Avatar' Flight Of Passage Ride Through Pandora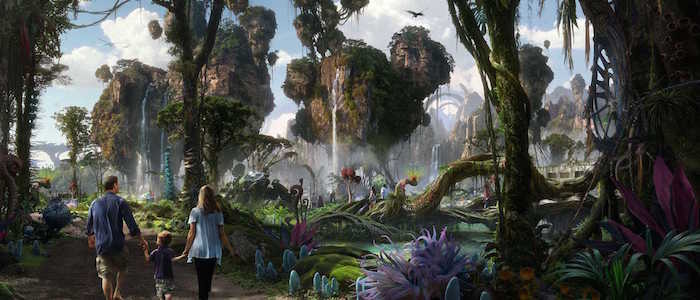 Avatar 2 may be several years away, but Pandora can become fully realized soon in the Flight of Passage ride that will be open in Walt Disney World's Pandora: The World of Avatar on May 27, 2017.
A few lucky fans got an early preview of the ride and have posted a full, detailed video of the experience. Get a sneak peek of what it's like to soar through the skies of Pandora on the back of a Banshee.
The ride allows you to dip and dive through gorgeously rendered landscapes of Pandora on the back of a winged Banshee. You soar through the skies of Pandora, spinning through the wooded wonderlands, then skimming the oceans until you land at the glowing heart of Pandora, the Tree of Souls. What this video doesn't capture in the immensity of the experience – the screen you're facing is much larger than a video suggests.
Of course, this ride occurs after you walk through the stunning queue, which is as detailed as you'd expect from Disney's talented team of Imagineers.  
The ride is not only a visually stunning experience, but a physical one — you can feel the wind and the breath of a Banshee on your face at various moments in the experience. The ride will look very familiar to anyone who has experienced Soarin' at Walt Disney World or Disneyland, but this is definitely a next-generation update on that ride system.
Here's an official description of the ride courtesy of Disney:
Avatar Flight of Passage launches each guest on an exhilarating, wind-in-your-face experience on a winged mountain banshee over the awe-inspiring world of Pandora. Guests will actually feel the banshee breathe beneath them as they soar through the forest and past floating mountains. What was a rite of passage for Na'vi in Cameron's film becomes a multisensory experience for guests seeking the ultimate adventure – a faceoff with the most feared predator of Pandora, the Great Leonopteryx.
The visuals look gorgeous for something that was captured on a video camera, and thus must be even more lush in person. What we can't experience are the physical effects — I wonder if splashes of water will be felt in addition to the "banshee breath" that has been advertised. Either way, it looks like an astonishing ride whose four minutes feel all too short (props to the guy who groaned "bummer" when the ride ended).
Pandora: The World of Avatar includes other multisensory experiences like the Na'vi River Journey boat ride, animatronic characters, a daytime tour through the Valley of Mo'ara, and a bioluminescent nigh time experience.
Pandora opens at the Animal Kingdom park in Florida's Walt Disney World this month.