T.J. Miller's 'Ready Player One' Character Is Basically Boba Fett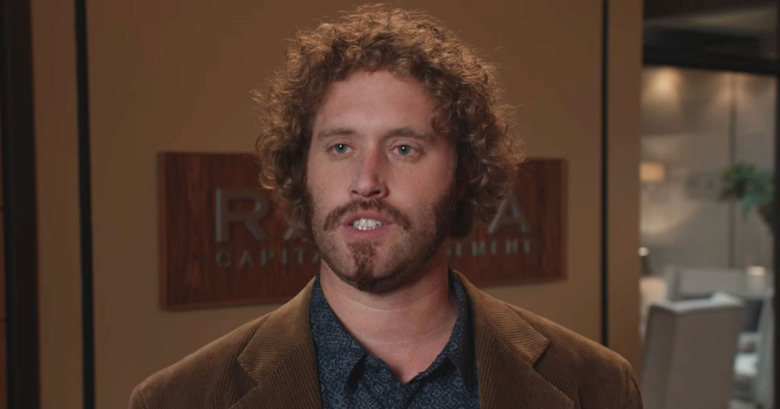 Steven Spielberg is a T.J. Miller fan, as he should be. Ever since Miller starred in one season of the short-lived DreamWorks show, Carpoolers, he's been friendly with the legendary filmmaker, who wanted to cast him in Office Christmas Party. After that comedy, Spielberg decided to bring Miller into the OASIS for Ready Player One.
In the virtual reality-centric science fiction film, the Silicon Valley star will play a character inspired by a bounty hunter we all know. Below, get more details on the T.J. Miller Ready Player One character.
Miller spoke to Fandango about his character, named i-R0k, a minor character from Ernest Cline's book. Considering that he works for IOI and Sorrento (Ben Mendelsohn), who want to solve James Halliday's egg hunt and poison the OASIS (this will all make sense to non-readers at some point), it's fair to call him a villain.
If i-Rok goes after Wade Watts/Parzival (Tye Sheridan) and Samantha Evelyn Cook/At3mis (Olivia Cooke) in the virtual reality world of the OASIS, he'll do so as an avatar inspired by Boba Fett:
I'm not in the book. Some plot points are different, but I'm the only new character. I play i-R0k and basically I am a funny, or at least mildly amusing, Boba Fett. In the OASIS, I am a better player than Aech or Daito or any of those guys. I am sort of unequivocally the best bounty hunter, but I work freelance. While all the Sixers work for IOI and Sorrento, he has to commission me and I get an incredibly high fee to either find people and kill them or make them starve in the game.
In the desolate real world, Miller's character idolizes Boba Fett. That's who he wishes to be, and that's how he tries to act as he works for IOI. Miller, who got to act in the OASIS via motion-capture, actually tried to imitate Boba Fett's voice for Ready Player One:
I actually mimicked Boba Fett's voice. And in the original Star Wars he only ever speaks four or five times in the movies, so I could only learn from 'What about me? He's no good to me dead.' And then 'As you wish.' And I used the British actor's voice instead of the f***ing Australian's from the prequels – Lucas, you son of a bitch! – and so, I think it's actually a really fun character.
It seems doubtful this will be the only connection to Star Wars that Ready Player One shares. While Spielberg cut most of the nods and winks to his movies, the "DeLorean and a couple of other things" are in the adventure film. We've already caught glimpses of some pop culture references from set photos.
Ready Player One opens in theaters March 30, 2018.