The Wedding Party Trailer: A One-Take Romantic Comedy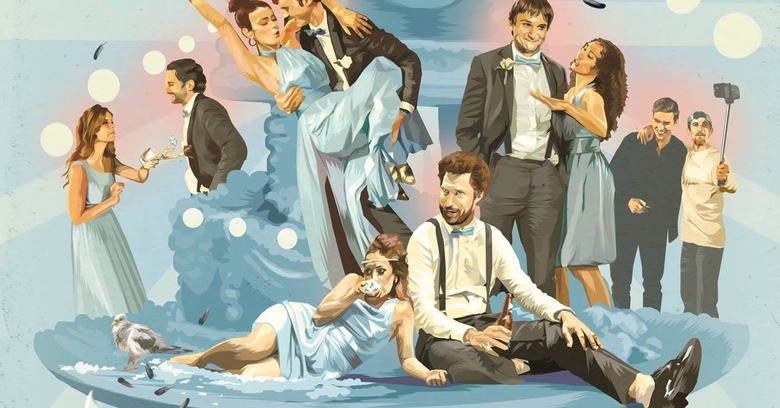 It's no secret that I'm a fan of long one-take scenes in movies. With film cameras, long-takes were nearly impossible to pull off, requiring days of precise lighting and choreography. The rise of digital cinema technology has made it a lot easier to shoot a long-take and even post-production trickery now allows filmmakers to more seamlessly stitch together two pieces of footage, something we saw in Birdman. Independent filmmakers are now adopting the aesthetic for their own stories, notably the 2015 German film Victoria and Woody Harrelson's live movie.
Thane Economou's new movie The Wedding Party takes the concept and uses it to tell a romantic comedy story following a groomsman who must navigate a slew of disasters to maintain order at his best friend's wedding reception. The first trailer for the film is now online and you can watch it below.
The Wedding Party Trailer
Honestly, when I first saw Kevin Smith's Clerks, this is the type of film that I thought we'd eventually get from that independent cinema revolution. I love the idea of taking this one-single-take concept and bringing it to the romantic comedy genre, because, why not? Indie filmmakers don't need permission to be daring in their presentation. Plus, a party seems like the perfect stage for this type of presentation. I'm interested to see how this style of shooting will be used to ratchet up the tension of the story.
I will leave you with this behind the scenes video from the making of The Wedding Party, which shows you the intense planning required to pull off a one-take film:
The Wedding Party has been playing film festivals around the country since late last year, including the Fayetteville Film Festival, the Tulsa American Film Festival, and the St. Louis International Film Festival. There's word on when or where it will end up, but I'm guessing it will be available on one of the VOD platforms in late 2017. The official plot synopsis follows:
After a slew of wedding day disasters, a recently heartbroken groomsman is tasked with running his best friend's reception. Now, he must wrangle his unruly friends to maintain order, while learning to love again. Stakes rise and cakes fall, all in one unforgettable evening, presented in real-time and filmed in one continuous shot.
The Wedding Party stars Blake Lee, Allison Paige, Moses Storm, Molly Burnett, Kat Palardy, Brian Thomas Smith, Ziah Colon, Joel Johnstone, Meg Cionni and James Lentzsch.