'New Girl' Will Jump Ahead Three Years For A Shortened Final Season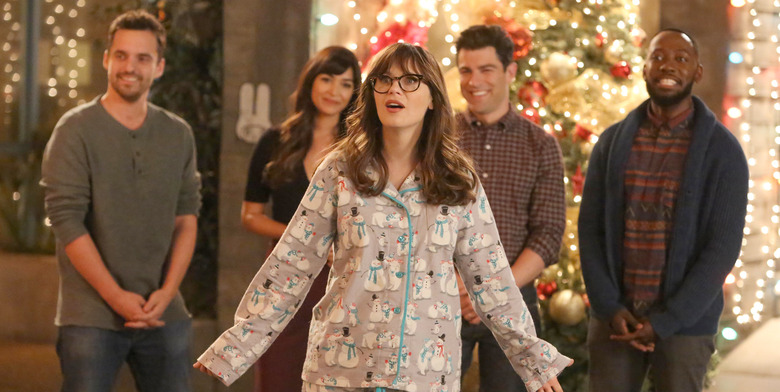 Amidst all the renewals and cancellations that television networks have announced over the past week, one show surprisingly remained on the bubble.
New Girl has been one of FOX's hit comedies ever since it debuted back in 2011. Though the series was initially thought to be a shoo-in to get renewed for a seventh season, the fate of the show recently took a turn for the worse and it came close to cancellation. Thankfully, at the last minute, a deal was struck for a shortened seventh and final season.
Find out details on the New Girl final season below, but beware of spoilers for the end of the sixth season.
For those wondering why New Girl suddenly came close to cancellation, it mostly has to do with scheduling. For one thing, series star Zooey Deschanel is on maternity leave after having her second child, keeping her away from being able to shoot any new episodes in time for a new season to debut in the fall. In addition, the rest of the cast is unable to return to work on the show until the fall, which means the show wouldn't be able to return until the midseason.. That wouldn't have been a problem, except the midseason schedule had already been decided, leaving no room for New Girl.
Executives at FOX thought the end of the sixth season would have worked if it ended up being the series finale. After all, the final episode had Jess (Deschanel) and Nick (Jake Johnson) rekindling their romance, while Cece (Hannah Simone) and Schmidt (Max Greenfield) learned they were having a baby, and Winston (Lamorne Morris) called his father with encouragement from Aly (Nasim Pedrad). Thankfully, it turns out the series will get a bit more time to wrap things up, but with a twist.
FOX was prepared to cancel the show, but creator/executive producer Liz Meriwether came in with a last ditch effort to bring the show back, and it got everyone behind the scenes excited. After some salary negotiations, New Girl was officially renewed on Sunday, the night before FOX's upfronts presentation.
According to Deadline he seventh season arc will only last eight episodes, and FOX found an eight week window during the midseason to make it work with the schedule. Furthermore, the final season will take place three years after the end of season six and will follow the main characters over the course of a year as they each hit major milestones, leading up to "a big one in the series finale."
No exact premiere date has been given for the final season of New Girl, but we'll let you know when we hear more.