A24 Releasing James Franco's 'The Disaster Artist' During Awards Season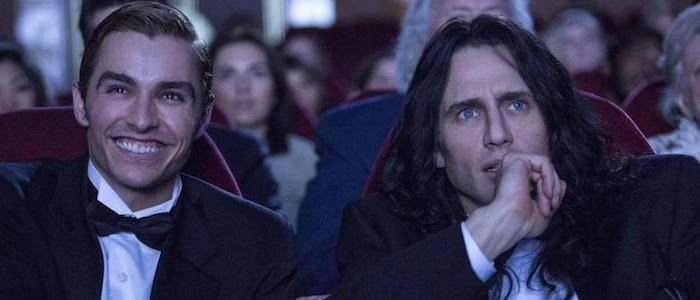 James Franco's The Disaster Artist has gone from New Line to A24. While New Line still holds the international rights, the distributor behind last year's Best Picture winner, Moonlight, will handle the domestic release of Franco's look at the making of Tommy Wiseau's The Room. A24 has set a December release date for the film.
Below, find out more about the Disaster Artist release date.
Franco's adaptation of actor Greg Sestero's book has a limited release date scheduled for December 1. The following week, The Disaster Artist will expand to more theaters. The movie had a successful premiere two months ago at SXSW, where the festival-goers gave the film a warm reception. Our managing editor, Jacob Hall, praised Franco's film for its well-earned sincerity:
The most surprising thing about The Disaster Artist, James Franco's adaptation of Greg Sestero's book of the same name, is that it doesn't have a mean-spirited bone in its body. Here's a film about the making of The Room, one of the worst and most baffling movies to ever achieve cult infamy, told with sincerity, sweetness, and pure affection. Franco isn't here to laugh at The Room – he's here to laugh with it. The Disaster Artist has no scorn for its subject. Instead, it is fascinated by this impossible-t0-believe tale and the impossible-to-believe movie it produced. No irony. No scorn. Only love.
He also had high praise for Franco's performance, which sounds like far more than an impersonation:
It's thing of mesmerizing comedic beauty, a performance that is so funny because it is sad and so pathetic and so strange and so rabidly determined. It's through Franco's work that we first discover that The Disaster Artist is not a fringe joke assembled by a group of comedians looking to strike a few low blows. This Tommy Wiseau, grotesque and pitiful and unpredictable and, somehow, strangely likable guy, is a tremendous character.
There was some speculation New Line wouldn't distribute the film domestically after taking a while to announce a release date, even after the work-in-progress cut impressed those in attendance at SXSW. Thankfully, A24 has swooped in and made a deal to release the movie, which sounds right up their wheelhouse. In their hands, a film as specific as The Disaster Artist should reach its audience.
Franco's film is now going to come out almost two years after filming began. Fingers crossed we'll also receive some good news soon for his long-awaited adaptation of the remarkable Zeroville, which is an even more wild story about filmmaking than The Disaster Artist. That RabbitBandini project has yet to premiere and find a distributor.
The Disaster Artist opens in select theaters December 1 and gets a wider release on December 8.