'47 Meters Down' Trailer: When Hungry Great White Sharks Attack Mandy Moore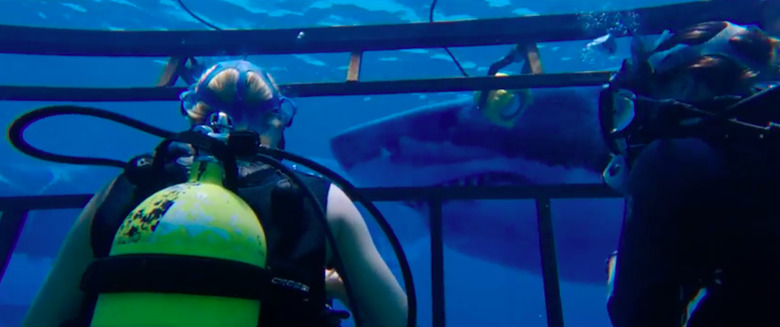 It's summertime, which means it's the time of the year to hit the beach with your family and friends. Of course, maybe you won't want to pay a visit to the beach if you have sharks on your mind. If 47 Meters Down is an effective shark movie, then maybe a few of us might think twice before swimming out too far from shore this summer.
Below, watch the 47 Meters Down trailer.
Only a year after the success of The Shallows – the kind of fun, self-aware summer popcorn movie I hope we see more of this summer – 47 Meters Down is hitting theaters. Unlike Jaume Collet-Serra's film, though, Johannes Roberts' (The Other Side of the Door) shark tale isn't about one surfer and one beautiful seagull's will to survive. 47 Meters is about two sisters, Lisa (Mandy Moore) and Kate (Claire Holt), surrounded by great white sharks without enough oxygen and no way to radio for help.
After their protective cage breaks and falls, the sisters will try to reach the top of the water, where Captain Matthew Modine is waiting for them (Source: Fandango):
47 Meters Down is only 87 minutes long. I'm curious how many of those minutes are actually spent underwater. The Shallows – a movie this one is inevitably going to be compared to – never ran out of steam with its brisk pacing, but these sort of films can wear thin quick.
As our Ben Pearson noted in his write-up of the previous trailer, The Weinstein Company's Dimension Films was going to release the thriller on VOD last summer. It got pushed off the schedule and eventually went to Entertainment Studios. Unlike Dimension Films, Entertainment Studios is going to give 47 Meters Down a theatrical release.
Here's the official synopsis:
On the rebound after a devastating break-up, Lisa (Mandy Moore) is ready for adventure while on vacation in Mexico. Even still, she needs a little extra persuasion when her daring sister Kate (Claire Holt) suggests they go shark diving with some locals. Once underwater in a protective cage, Lisa and Kate catch a once in a lifetime, face-to-face look at majestic Great Whites. But when their worst fears are realized and the cage breaks away from their boat, they find themselves plummeting to the bottom of the seabed, too deep to radio for help without making themselves vulnerable to the savage sharks, their oxygen supplies rapidly dwindling. 47 METERS DOWN is a terrifying tale of survival set in the domain of the ocean's fiercest creatures.
47 Meters Down opens in theaters June 16.