'Logan' Deleted Scene: The "Beware The Light" Scene Went On A Bit Little Longer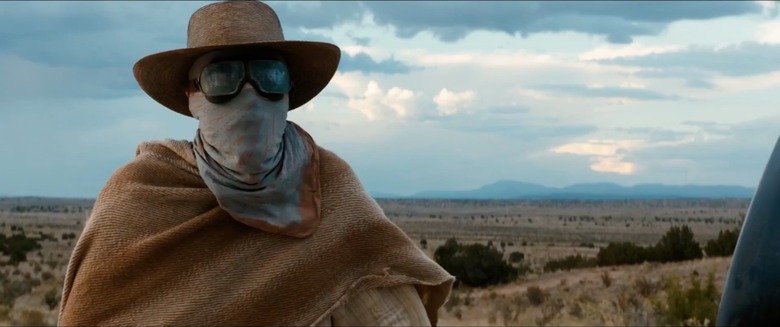 Logan couldn't be a better success story. Hugh Jackman got to go out on a high note, the R-rated movie surpassed expectations at the box-office, and the whole endeavor received love all around from audiences, comic book fans, and critics. Making Logan's journey all the more satisfying is its return to theaters with a black and white cut, which will be on this month's Blu-Ray release.
Also on the home video release is a deleted scene with Caliban (Stephen Merchant). Below, watch the Logan deleted scene (Spoilers are ahead).
There will be a few deleted scenes on the Blu-Ray featuring optional commentary from co-writer/director James Mangold, but you probably don't need to hear it from him why this scene with Caliban was cut. It's an addition to the already great scene in which Logan and Professor's brief moment of happiness gets cut short when unwanted guests arrive at the Munson's home.
Here's the Logan deleted scene, featuring Marco Beltrami's gut-turning score:
The final cut moment with Caliban probably would've made the horrific scenario bleaker. When Logan's clone shows up, it's already a dark enough sequence. Logan witnessing another one of his friends die right in front of him maybe would've been too much. It wouldn't have felt out of place with the film's dire tone, but it's a deleted scene for a reason. Plus, Caliban's death is hard-hitting enough in the movie. The "Beware the light" line makes for an intense, swift and brutal farewell for the character.
Here's more info on the Logan Blu-Ray:
Twentieth Century Fox Home Entertainment brings Hugh Jackman's celebrated seventeen-year run as Wolverine to a close when the box office phenomenon Logan arrives on Digital HD on May 16 and 4K Ultra HD™, Blu-ray™ and DVD May 23. Sir Patrick Stewart (X-Men: Days of Future Past, Star Trek: The Next Generation), Stephen Merchant (Hello Ladies, The Office), Boyd Holbrook (Narcos) and newcomer Dafne Keen join Jackman in the iconic character's final chapter, directed by James Mangold (The Wolverine, Walk the Line).
Touting an R-rating, allowing fans to finally see Logan's legendary berserk rage unleashed, Mangold brings a visceral and gritty realism to the story, based on one of Marvel Comics' most popular characters. In the near future, a weary Logan (Hugh Jackman) cares for an ailing Professor X (Patrick Stewart) in a hideout on the Mexican border. But Logan's attempts to hide from the world and his legacy are upended when a young mutant (Dafne Keen) arrives, being pursued by dark forces.
Logan is available on DVD and Blu-Ray on May 23.