'The Orville' Trailer: Seth MacFarlane Heads To Space In 'Star Trek' Inspired Comedy Series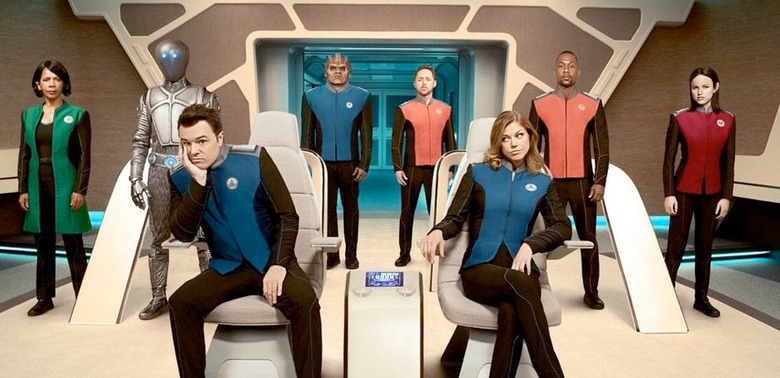 Star Trek has been lampooned countless times, whether it's by Saturday Night Live, Futurama or the outstanding Galaxy Quest. Now it's getting an indirect kind of spoof, if you will, in the form of a new FOX TV series from Family Guy creator Seth MacFarlane.The Orville is a new one-hour sci-fi comedy series set 400 years in the future that follows the adventures of the titular spaceship and its crew as they traverse the universe, dealing with the kind of workplace problems that come from having a crew composed of aliens and humans from different planets all aboard a single spaceship. FOX debuted The Orville trailer at their upfronts presentation today, and you can get a glimpse of the promising new show below.
Here's The Orville trailer straight from FOX:
There's undoubtedly some flares of Galaxy Quest here, but the sense of humor is a little bit different, which differentiates it from that cult favorite sci-fi comedy. Plus, the wide variety of alien life makes for a much more diverse galaxy than we were given in that movie, offering up plenty of new things to crack jokes about. If you need another reason to give the show a chance, Iron Man director Jon Favreau was at the helm of the pilot.
Seth MacFarlane plays Ed Mercer, an officer in the Planetary Union who finds himself forced to team up with his ex-wife Kelly Grayson (Adrianne Palicki of Agents of SHIELD) as his First Officer. The two must learn to command the crew while confronting all the dangers that space has to offer while dealing with their complicated past. That in itself is a fun premise, but the supporting cast sounds great too.
There's Gordon Malloy (Scott Grimes of Justified), who is a skilled pilot with a distaste for authority; Dr. Claire Finn (Penny Johnson Jerald of 24), one of the best doctors in the Planetary Union, Bortus (Peter Macon of Shameless), an alien from a single-sex species; Isaac (Mark Jackson of That Royal Today), an artificial life-form who hails from a machine society that looks down upon biological creatures like humans and aliens; John LaMarr (J. Lee of Family Guy), who offers up plenty of humor in tense situations; Alara Kitan (Halston Sage of Neighbors), a young, inexperienced security officer with surprising strength; and Yaphit, a gelatinous alien creature voiced by none other than Norm Macdonald.
This show has the ingredients for a solid comedy, but those who can't handle Seth MacFarlane when he's not voicing cartoon characters (like in A Million Ways to Die in the West, of which I am a strong defender), may not enjoy this show since he's one of the leads. But maybe the sci-fi environment and Star Trek style will be enough to make it work for a wider audience.
The Orville is a one-hour science fiction series set 400 years in the future that follows the adventures of the U.S.S. Orville, a mid-level exploratory vessel. Its crew, both human and alien, faces the wonders and dangers of outer space, while also dealing with the familiar, often humorous problems of regular people in a workplace...even though some of those people are from other planets, and the workplace is a faster-than-light spaceship.
Down on his luck after a bitter divorce, Planetary Union officer Ed Mercer (Seth MacFarlane) finally gets his chance to command one of these ships: the U.S.S. Orville. Determined to prove his worth and write a new chapter in his life, Ed finds that task all the more difficult when the First Officer assigned to his ship is his ex-wife, Kelly Grayson (Adrianne Palicki).
Somehow, Ed and Kelly must put the past behind them and, with the help of the crew, navigate fascinating and sometimes dangerous adventures in outer space, as well as the tumultuous and captivating day-to-day personal relationships with their colleagues.
The Orville debuts on FOX on Thursdays this fall, though no specific premiere date has been set yet.