Melissa McCarthy Returns As Sean Spicer On 'Saturday Night Live', Watch The Best & Worst Sketches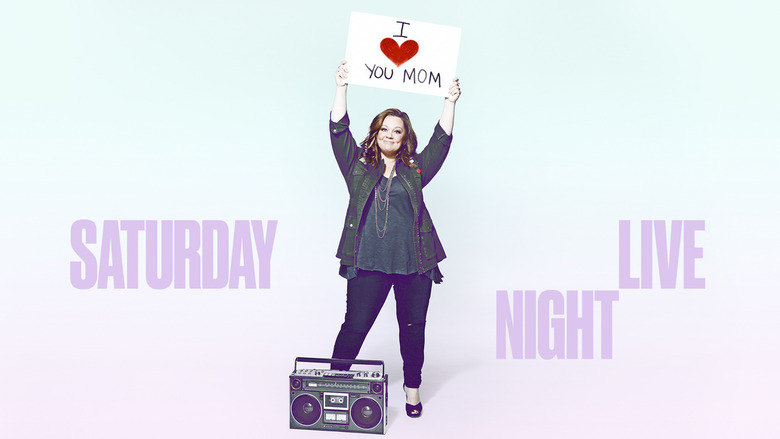 This weekend's Mother's Day episode of Saturday Night Live brought Melissa McCarthy back as host for the fifth time. She's made several appearances on SNL this season as White House press secretary Sean Spicer, adding some variety to the political satire that the late night sketch show has made even more prominent since Donald Trump became president. But this time she had an entire episode to herself, and the result was a solid collection of comedy.
Watch the best and worst sketches from the Melissa McCarthy hosted Saturday Night Live.
The Best
Sean Spicer Returns – We already knew Sean Spicer was returning after Melissa McCarthy was spotted cruising around New York City on the motorized podium that she rammed reporters with before, and this sketch did not disappoint. The interaction that McCarthy has with the reporters is what makes Spicer work the best, which is part of the reason her appearance during the Easter-themed sketch didn't work as well. Though this sketch hit the same beats as the previous ones, the use of nesting dolls topped Spicer's previous use of toys to explain things to reporters. Plus, you can't go wrong with having Trump and Spicer make out, which just had to be included as a way to piss off the president even more.
Kyle and Leslie – This has been one of my favorite ongoing sketches from this season. Rarely is there much carry-over between sketches, let alone pre-recordedones. In fact, I'm not certain, but I think this is the first series of pre-recorded sketches that has a narrative that continues throughout a given season. One could argue that the characters Andy Samberg and Justin Timberlake played in the music videos for "Dick in a Box," "Mother Lover" and "3-Way (The Golden Rule)" had a narrative that spanned several sketches, but it wasn't anything like this. Oh, and the quick gag with Lorne Michaels was fantastic.
Side note: Did anyone else notice that Colin Jost was wearing crutches at the end of the show during the goodbye? Does he have an actual injury that he needs crutches for, or was that a clever continuance from him getting hilariously and surprisingly shot in this sketch?
Game Show – Melissa McCarthy may be the best physical comic to take to Saturday Night Live since Chris Farley (though Molly Shannon comes close too). When she hosts, it never fails that she'll do something completely goofy like this. The sketch as a whole went on a little too long, but McCarthy kept it funny. While I would have preferred more variety like there was early on with the sprinkles and the blowing of the candles, I found myself laughing quite heartily at this sketch.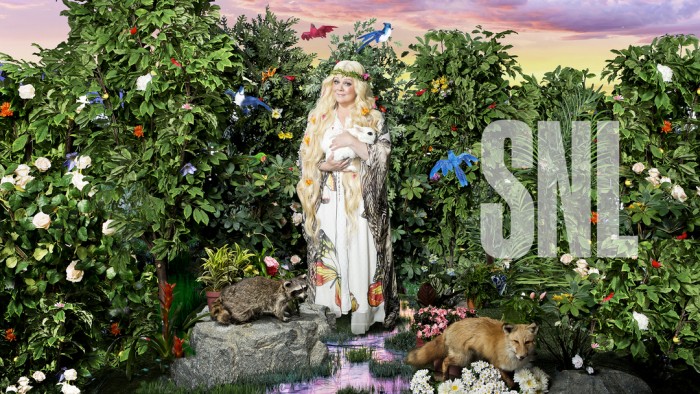 The Average
Amazon Echo – I was sold on this sketch as soon as the Amazon Echo made for the greatest generation allowed them to call Alexa by a bunch of different names. But it got even better as it portrayed how a typical conversation with your grandparents might go. This is one of the better commercials SNL has had in awhile, though it wasn't quite as good as the best sketches of the night.
Lester Holt – I'll never get over how weird Michael Che looks in the Lester Holt prosthetic make-up, but thankfully, it's not distracting enough to take away from this solid send-up of the interview the NBC reporter had with Donald Trump this past week. It wasn't laugh out loud funny as much as it was scarily accurate in it's satirical commentary on the events of this week involving the firing of FBI director James Comey, kind of like the sketch where Amy Poehler played Katie Couric and interviewed Tina Fey as Sarah Palin. That moment where Lester Holt stops to clarify whether he finally "got" Donald Trump only to be told that nothing matters anymore was a great, albeit depressing, bit.
Film Panel – As much as I love Kate McKinnon playing this fictional actress from the Golden Age of Hollywood, this was not one of her better appearances. I was hoping the addition of Melissa McCarthy would make it even better, but I didn't particularly like the voice that she gave to the character. She didn't sound as much like an old woman as McKinnon's character and merely had a lisp of some sort instead. It still had a decent amount of funny moments (like calling Marion Cotillard Marriott Courtyard), but it's been done better before.
The Worst
First Birthday – While I like the premise of this sketch, the set-up needed something to punch it up a little more. Just the idea of giving some kind of ritual ceremony meaning to the obsession that some middle-age women have with certain animals is funny, but the execution didn't work all that well for me. The turn to a more sinister tone as all the women became a sort of Stepford Wives group of ladies was a nice touch, but it wasn't enough to save it from being a bit of a dud.
Production Logo – I really wanted to like this sketch once the basic premise was laid out in the first example of the possible production logo. But unfortunately it doesn't really go anywhere beyond that. I would have liked some kind of escalation and an ending that didn't feel tacked on. Plus, I'm not sure if they intentionally messed up saying DreamWorks on purpose, since it happened twice, but that was distracting. I definitely laughed when one of the production logos featured two guys talking about Melissa McCarthy's disheveled character, but this sketch just felt kind of sloppy.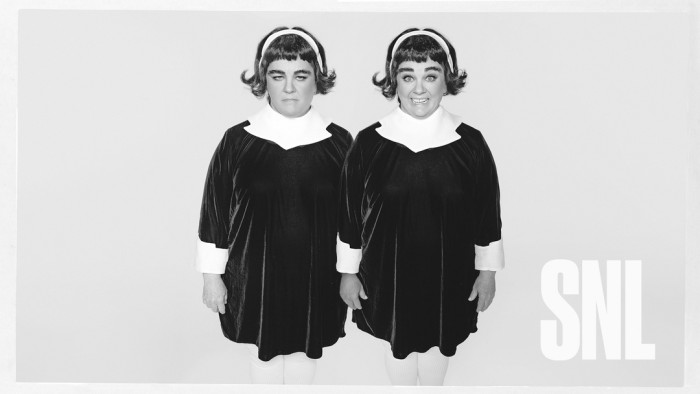 Weekend Update
I think this is the most reactive the audience has been to some of the more provocative jokes in awhile. It's not that Colin Jost and Michael Che were more edgy or anything this time, but some of the one-liners definitely garnered a big reaction from the crowd. As far as Jost and Che playing off each other, it felt like there were a couple instances where there should have been something said between them, but it was pushed to the wayside for one reason or another. That's dwindled a bit in recent installments of Weekend Update, but the jokes have been strong so it hasn't felt like an issue.
Pete Davidson on Being Sober – I love Pete Davidson's stand-up style. He's got such a laid back, homegrown attitude about him. He's not cocky, but he's confident. And his perspective as a younger comic is much different than what you see from most stand-ups who get famous in their late 20s or early 30s. This unique perspective on getting sober (Davidson used to smoke a lot of weed) is not only personal but also hilarious.
Cathy Anne on James Comey – You know, I didn't really enjoy this character when she first started appearing in sketches, but she fits right in at the Weekend Update desk. Plus, I love how this batshit crazy old woman is used to offer some sincere and poignant political commentary on this whole situation with Donald Trump and James Comey.
The Host
Melissa McCarthy is undoubtedly one of the best recurring hosts that Saturday Night Live has right now. The fact that they used her to play Sean Spicer is a testament to how much the writers lover working with her, and she's just a delight as a comedic performer. This monologue was also really cool because of how it took us around backstage Studio 8H, which reiterates to people just how small the space in which SNL unfolds really is. The fact that they used a real audience Mom for this monologue and had her come out like she was hosting was adorable, and it also made me infinitely jealous.
However, I will say that I was disappointed that the Five-Timers Club recognition wasn't featured at the top of the show. It's a staple when someone hosts the show for their fifth time that they join the exclusive club, and there have been several sketches about it. Justin Timberlake had a whole shebang with a bunch of cameos from other frequent hosts, and I was bummed that Melissa McCarthy didn't get the same treatment. Sure, Steve Martin showed up at the end to give her that nice Five Timers jacket, and it seemed like it was a genuine surprise for McCarthy, but I think she deserved a little more pomp and circumstance.
The MVP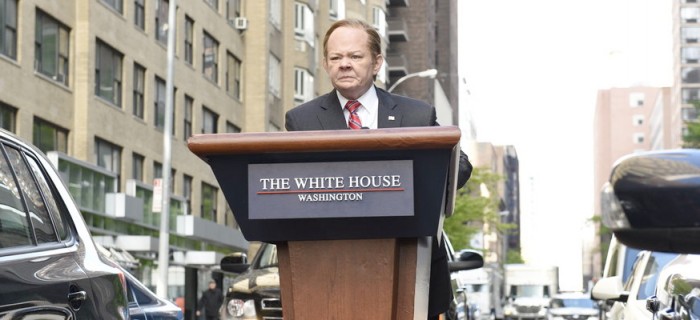 Melissa McCarthy – Sure, the host is always meant to be the standout performer on any given episode of Saturday Night Live, but that doesn't always mean they're the best performer of the night. But in this case, McCarthy did so much that only she could do that she was undoubtedly the best performer of the night. From Sean Spicer to that dessert game show, she just proved why she's one of the best comedy actresses working today.
The Final Word
Overall this was a solid episode as the last one heading into the finale. It wasn't quite raucously entertaining, but Melissa McCarthy certainly brought plenty of energy with her that seemed to infect everyone else at the show. But part of me thinks maybe the writers held back a bit this week since the finale is just around the corner and it will be the third episode of three in a row for them to close out the season. They definitely have a fun host to work with for that episode since Dwayne Johnson is coming back, and musical guest Katy Perry will probably get in on a sketch or two as well. Hopefully it's a finale that delivers the goods.
Come back next week for our recap of the 42nd season finale of Saturday Night Live.