Melissa McCarthy Is Podium-Cruising Around NYC As Sean Spicer For 'SNL' This Weekend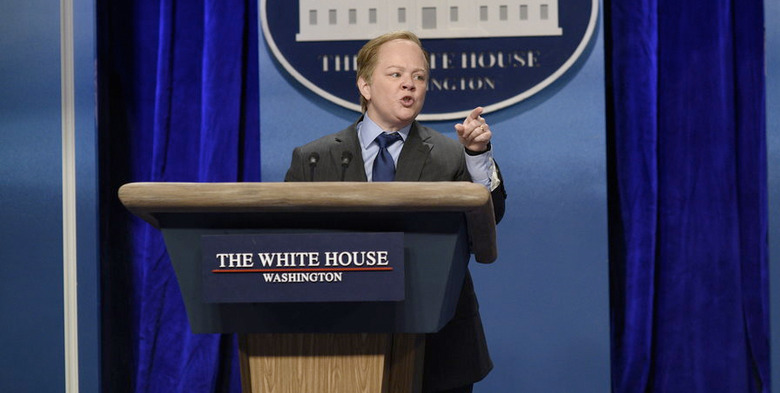 This weekend brings another episode of Saturday Night Live to NBC with Melissa McCarthy returning as host. She'll be the fifth woman to join the five-timers club, and hopefully there will be plenty of cameos from some of the other members of the five-timers club to welcome her to the gang.
Beyond that, we know at least one thing that will be happening. Since Melissa McCarthy has been playing Sean Spicer in absolutely hilarious cameo appearances on SNL this season, it's been assumed that she would reprise the role when hosting the show this weekend, and now we have gotten confirmation in the best way possible. McCarthy was spotted cruising around the streets of New York City, driving around on the White House press room podium we've seen her chase down reporters with on the show before.
Watch Melissa McCarthy as Sean Spicer cruising around NYC below.
The above video comes from CNN, as McCarthy was driving the podium around outside of their headquarters in New York. I'm impressed that she was doing this through actual NYC traffic, which can be a total nightmare in the morning. But SNL always has had a guerilla style when it comes to shooting segments like this at the last minute. I would hope that not even the stereotypical impatient New Yorker would enjoy seeing Melissa McCarthy as Sean Spicer, even as a traffic impairment.
CNN reporter Elana Zak even snapped some shots of the crew working on the city streets:
When @melissamccarthy films an SNL skit in front of your office. pic.twitter.com/XCMH2Yi0zT

— Elana Zak (@elanazak) May 12, 2017
As you can see, the sketch is called "Spicer Returns," which is clearly a reference to the fact that the press secretary has been away from the White House for the week, apparently partaking in his monthly duties as a Navy Reserve officer. Hopefully it will be just one of many highlights from the new episode airing on SNL this weekend. Personally,  I can't wait to see how they lampoon the return of Spicer to the podium.
For those curious, CNN also did a report on just how the podium was made mobile for the sake of comedy:
Be sure to come back this weekend on Sunday after Melissa McCarthy hosts the penultimate episode of the 42nd season of Saturday Night Live. We'll have a full recap of the best and worst sketches, and if all goes well, there will be more of the former instead of the latter. We'll find out soon enough.