'Band Aid' Trailer: Adam Pally & Zoe Lister-Jones Solve Marriage Problems Through Music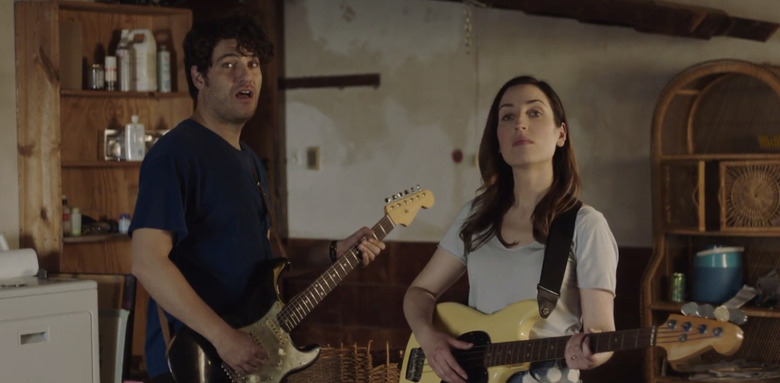 Along with all the blockbuster action movies hitting theaters this summer, make sure to keep an eye out for the underdog indie movies hitting select theaters and VOD that really need your support. One of those movies is called Band Aid, and the first trailer has just arrived online.
Band Aid is a hilarious but affecting story of a couple played by Adam Pally and Zoe Lister-Jones who are having trouble working through marriage woes. But instead of the usual therapy route, they decide to tackle their problems by forming a band and writing songs about what frustrates them about each other. It sounds kind of kitschy when described so simply, but there's a tenderness and authenticity to the story that really makes it work in a delightful and poignant way.
Watch the Band Aid trailer below.
Variety's review from Sundance back in January had this to say about the movie:
"Band Aid has wit and nasty charm to burn in the earlygoing, generating enough goodwill to power it through an uneven final act. It ultimately comes across more like a promising demo tape than a mixed-and-mastered final product, but the director displays plenty of chops going forward."
Zoe Lister-Jones wrote, directed and stars in the movie, proving herself to be an exciting multi-hyphenate with a bright future as a filmmaker. Unlike Variety, I think she creates a satisfying blend of honest comedy and drama that hits all the right marks, not to mention a batch of catchy, fun tunes that she performs with Adam Pally.
Rounding out the cast is Fred Armisen as the couple's odd but amusing neighbor who gets involved with the band as their drummer, Retta as the couple's marriage counselor, and Hannah Simone, Chris D'Elia, Brooklyn Decker, Ravi Patel and Susie Essman in key supporting roles.
Band Aid, the refreshingly raw, real, and hilarious feature debut from Zoe Lister-Jones, is the story of a couple, Anna (Zoe Lister-Jones) and Ben (Adam Pally), who can't stop fighting. Advised by their therapist to try and work through their grief unconventionally, they are reminded of their shared love of music. In a last-ditch effort to save their marriage, they decide to turn all their fights into song, and with the help of their neighbor Dave (Fred Armisen), they start a band. A story of love, loss, and rock and roll, Band Aid is a witty and perceptive view of modern love, with some seriously catchy pop hooks to boot.
Band Aid hits theaters on June 2 and VOD a week later on June 9.