Jackie Chan And Slyvester Stallone Team Up For Action Thriller 'Ex-Baghdad'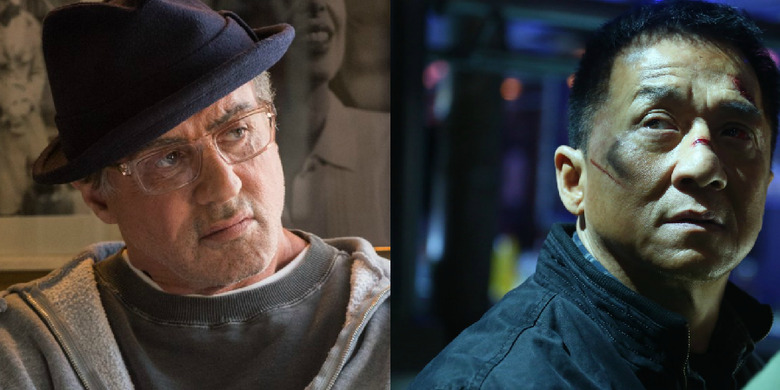 Get ready for some adrenaline-pumping action: Jackie Chan and Sylvester Stallone are teaming up on the big screen for Ex-Baghdad, a politically-charged action thriller to be directed by Scott Waugh.
The is the first time the two action stars have been paired onscreen, despite their similarly legendary careers throughout the '80s and '90s. It's actually a shock that Chan never made an appearance in Stallone's Expendables franchise, which teamed up '80s action icons in a series of completely indulgent action movies with little plot, but tons of testosterone.
So it's serendipitous that Stallone will forego the next Expendables movie to co-star with Chan in Ex-Baghdad, an international action film that will be produced by Chan's company SR Media, according to Deadline. With a budget of $80 million, Ex-Baghdad will be one of the biggest budget movies to come out of China.
Directed by Waugh, known for directing Act of Valor and Need For Speed (he was also a stunt coordinator on various films, including the first xXx) and written by Arash Amel, Ex-Baghdad will see Chan star as a private security contractor who uncovers a conspiracy surrounding a Mosul-based oil company, and teams up to save the day with an American former Marine played by, you guessed it, Stallone.
See the official synopsis below:
When a China-run oil refinery is attacked in Mosul, Iraq, a Chinese private security contractor (Chan) is called in to extract the oil workers. He learns, however, that the attackers' real plan is to steal a fortune in oil, and teams up with an American former Marine (Stallone) to stop them.
There's no filming schedule or release timetable specified yet, but Ex-Baghdad will surely have action fans lining out the door when it's release. Although Chan hasn't had a hit on this side of the world since the Rush Hour movies, he's still a hugely bankable movie star in China, and one who has genuine grasp on the art of fight scenes (which have suffered in general lately thanks to the rise of shaky cameras). Stallone is always reliable too, proving he can still do drama with Creed and that he can still wield a machine gun like no other in The Expendables. The sheer power of Stallone and Chan's names together is enough to generate interest for this movie.