'New Mutants' Casts 'Game Of Thrones' And 'Split' Stars As Wolfsbane And Magik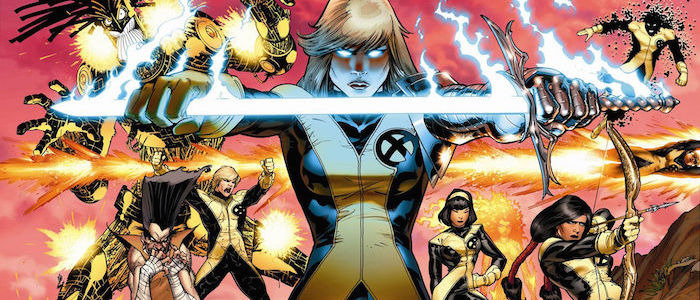 For the first time in a long time, the X-Men movies are starting to get us excited again. Even if you ignore the brilliant Legion on FX (and you most certainly should not), Logan and Deadpool suggest a wild and exciting path ahead for the mutant superheroes. Hopefully, the upcoming New Mutants movie continues the trend.
It certainly helps that two very talented young women have officially joined the cast: Game of Thrones star Maisie Williams and Split's Anya Taylor-Joy have signed up for Josh Boone's movie, which is due out next year.
If those names sound familiar, it's because both Williams and Taylor-Joy were rumored to be joining the film back in March of 2016, but 20th Century Fox shot down the story. Now, here we are, over a year later, confirming everything that was denied 14 months ago.
Anyway, The Hollywood Reporter has made it official. As suspected, Williams will play Wolfsbane and Taylor-Joy will play Magik. They'll headline a team of young mutant superheroes that also includes Moonstar, Warlock, Sunspot, and Cannonball.
James McAvoy's Professor Charles Xavier will also have a role in the film, making this a minor Split reunion
. (Update: Fox has contacted us to debunk the last sentence.) THR also notes that the search is on for ethnically appropriate actors to play the Native American Moonstar and the South American Sunspot.
Williams is the more familiar of the two actresses, having played Arya Stark (you know, the best character on the show) in HBO's Game of Thrones since the first episode. She's the second Westeros veteran to play a member of the X-Men, following her onscreen sister Sophie Turner, who played Jean Grey in X-Men: Apocalypse. In the comics, Wolfsbane's ability to transform into a wolf puts her at odds with her religious upbringing and her abusive father. Her inclusion in this line-up definitely hints at the kind of teenage angst New Mutants will traffic in (and after The Fault in Our Stars, I'm all about more Josh Boone-helmed teen angst).
However, Magik is the more familiar of the two characters. The sister of the X-Men's own Colossus (last seen playing the straight-man to Wade Wilson in Deadpool), she can teleport and utilize a variety of magical abilities, which are often dangerous and beyond her full control. While Taylor-Joy was most recently in Split, she left quite an impression in 2016's The Witch, where she tackled the difficult lead role with courage and grit.
New Mutants is due out on April 13, 2018, so we can expect the rest of that cast to come together very soon.