'American Gods' Season 2 Officially Ordered By Starz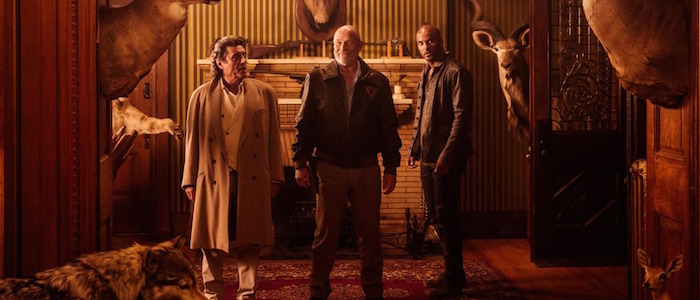 The Powers That Be over at Starz have heard our prayers: two weeks into its beautiful, bewitching, and sometimes baffling first season, American Gods has been renewed for season 2. This is great news not only for fans of the book, who were bound to enjoy this brilliant riff on Neil Gaiman's work, but also for the more casual viewers who may have been nervous about giving themselves over to a show this dense and strange. Knowing that more episodes are on the way next year is a promise – everything you're seeing now will eventually pay off.
The news of the renewal comes after the series premiere was watched by over five million viewers across all all platforms (1.4 million viewers watched its initial three airings), making it one of the strongest debuts ever for a Starz show. Programming president Carmi Zlotnik offered this statement:
Bryan Fuller, Michael Green and Neil Gaiman have evolved the art form of television narratively, structurally and graphically with American Gods, and we're thrilled to be working again with these artists as they continue to build the worlds and wars of the gods.
And Craig Cegielski of FremantleMedia North America (which produces the series) had this to say:
American Gods has been a ground-breaking series born out of belief and it's thrilling to be partnered with Starz to continue this ambitious story. Neil Gaiman, Bryan Fuller and Michael Green have ignited a conversation through cinematic magic, presented through a diverse ensemble of actors that continue to keep us engaged and inspired.
Honestly, the reason I'm copying and pasting those boilerplate statements is because we really don't know much about American Gods season 2 at this point. Deadline suggests that it will be at least eight episodes long, matching the order of season 1, and that it will probably debut in mid-2018. But that's all speculation.
We do know that the first season will apparently cover the first third or so of Gaiman's beloved novel, so is it possible that we're looking at a three season, 24-episode plan? That would make sense. While the book offers plenty of opportunities for expansion, this could be a case where showrunners Bryan Fuller and Michael Green are looking to create a show with a clear beginning, middle, and end.
If you've been watching the show, know that we've been writing about it! I wrote about the first episode and Vanessa Bogart took on episode two (and she'll be handling the weekly reviews from this point onward). I genuinely think this show is something special and that it has a serious shot at becoming a genuine phenomenon, provided that the latecomers discover it between seasons. Hey, it worked for Game of Thrones.