'Moonlight' Star André Holland Journeys To Hulu's 'Castle Rock'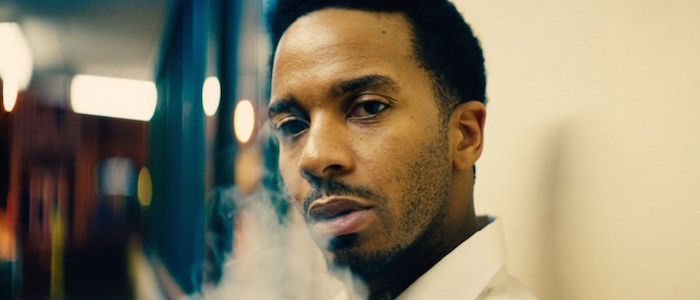 2017 was already a big year for Stephen King adaptations before Hulu announced their new show Castle Rock, a series set within the popular author's larger universe. While not based on any specific novel or story, it will actually acknowledge the myriad of connections throughout King's work, making it catnip for fans. That it will also star Moonlight's André Holland is icing on an already intriguing cake.
We do not know much about Castle Rock and we do not know much about who Holland will play in the series, but we do know this much: he'll take on the role of "Henry, a death row attorney with a unique and complicated history in the town." Of course, "the town" means Castle Rock, which isn't just the title of the show. It's one of several locations to play a large role across King's body of work.
Let's take a step back. While the upcoming film adaptations of The Dark Tower and It and the upcoming television take on The Mist are all completely separate projects, dedicated Stephen King fans know the truth – on the page, all of these characters, events, and monsters all exist within the same multiverse, sometimes sharing the same villains and sometimes effecting each other in subtle and not-so-subtle ways. I wrote all about this when the show was first announced, but Castle Rock's official synopsis goes into additional detail:
A psychological-horror series set in the Stephen King multiverse, Castle Rock combines the mythological scale and intimate character storytelling of King's best-loved works, weaving an epic saga of darkness and light, played out on a few square miles of Maine woodland. The fictional Maine town of Castle Rock has figured prominently in King's literary career: Cujo, The Dark Half, IT and Needful Things, as well as novella The Body and numerous short stories such as Rita Hayworth and The Shawshank Redemption are either set there or contain references to Castle Rock. Castle Rock is an original suspense/thriller — a first-of-its-kind reimagining that explores the themes and worlds uniting the entire King canon, while brushing up against some of his most iconic and beloved stories.
With Holland playing a defense attorney, you just know that Castle Rock will pay at least one visit to Shawshank State Prison, the key location in The Shawshank Redemption and one of the most frequently name-dropped locations in Stephen King's Maine.
In addition to giving a powerful performance in last year's Oscar-winning Moonlight, Holland has starred in 42, Selma, and the late, great Cinemax series The Knick. He'll soon be seen in Ava DuVernay's big screen adaptation of A Wrinkle in Time, which is due out next year. Holland is an incredible actor – fiery, charming, funny, smart – and anything he does should draw your eye. So him starring in a Stephen King series on Hulu? Well, that should give this show your undivided attention.
The 10-episode first season of Castle Rock doesn't have a premiere date yet. Sam Shaw and Dustin Thomason are writing the series and executing producing alongside J.J. Abrams, Ben Stephenson and Liz Glotzer.