The CW Adds 'Black Lightning' To Its DC Comics Superhero Show Line-Up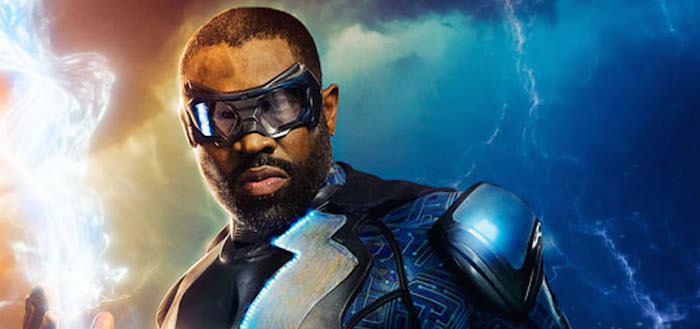 DC Comics fans are getting inundated from all sides — the DC Extended Universe is going full-steam ahead with the upcoming Wonder Woman and Justice League movies this year, and The CW superhero universe (or the Arrowverse or the Berlanti-verse, whatever you like to call it) just keeps getting bigger.
Adding to their highly successful line-up of superhero shows, which already includes Arrow, The Flash, Legends of Tomorrow and Supergirl, The CW has picked up Black Lightning, based off the comic book starring one of DC's first major African-American superheroes.
CW superhero series mastermind Greg Berlanti — who created Arrow, The Flash and oversaw Legends of Tomorrow as well as Supergirl when it started over at CBS — will be producing Black Lightning, a series about a former vigilante who hung up his cape, only to find himself back in the fight once more.
Starring Hart of Dixie's Cress Williams as Jefferson Pierce, Black Lightning will presumably be a series about mixing family life with superhero life, and trying to find the perfect balance between them. The series will be produced by Berlanti alongside Salim Akil and Mara Brock Akil, who originally wrote the pilot for Fox, according to Variety.
Here's the synopsis for Black Lightning below:
Jefferson Pierce has made his choice. He hung up the suit and his secret identity years ago, but with a daughter hell-bent on justice and a star student being recruited by a local gang, he'll be pulled back into the fight as the wanted vigilante and DC legend: Black Lightning.
The character, who can generate and and manipulate electricity, was created by Tony Isabella and Trevor Von Eeden and first appeared in 1977 in the comic Black Lightning #1. Before you ask, no, he's not related to Static Shock, though apparently, within the pages of the DC comic book universe, people frequently ask him if they are. I know very little about Black Lightning, but this now makes me want a Static Shock TV series with crossovers in which the other CW superheroes constantly mistake the two of them for each other.
I'm not sure how Black Lightning will be connected to the Arrowverse — if at all — but the new series does stoke theories that Berlanti is building his own TV Justice League. With the exciting prospect of the digital-only Titans and Young Justice: Outsiders, also spearheaded by Berlanti, DC Comics is starting to rival Marvel on TV properties. While I'm all for keeping the movie and TV universes separate (there's a whole argument that they can exist simultaneously thanks to the multiverse), it would be incredible to see those digital series cross over with the CW shows. It may even best the Flash/Supergirl musical episode.