Martin Scorsese Will Begin Shooting 'The Irishman' This Summer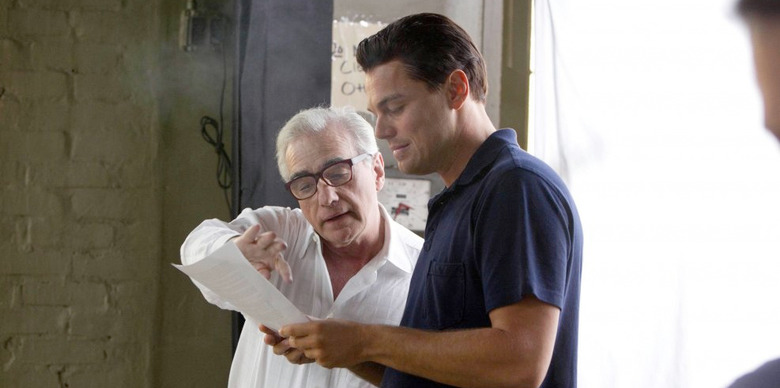 Before the summer ends, Martin Scorsese will start de-aging Robert De Niro, Al Pacino, and Joe Pesci. The three actors will help tell the story of professional hitman Frank "The Irishman" Sheeran, which spans decades. The spectacular trio will play heir characters at the ages of 30, 50, and 70. ILM will handle the de-aging effect, while Netflix will take care of the film's the release.
Below, learn more about The Irishman.
Scorsese begins his ninth collaboration with De Niro in August and it's the first time they've worked together in over 20 years. As for Pacino, it's his first time working with Scorsese, who's been trying to make a movie with the actor since 1971. Netflix is planning a 2019 release date for their first collaboration with the legendary filmmaker's latest crime picture, which will co-star Harvey Keitel and Bobby Cannavale. Cinematographer Rodrigo Prieto, who shot The Wolf of Wall Street and Silence, is working on The Irishman as well.
Steve Zaillian (Schindler's List) wrote the script, based on Charlie Brandt's book, "I Heard You Paint Houses," a title Scorsese was interested in maybe reverting to for the film. Netflix is reportedly going to give The Irishman a limited Oscar-qualifying release, so if you were disappointed about Scorsese's next film skipping theaters, worry no more.
Frank "The Irishman" Sheeran, who De Niro is playing, killed 25 people and claimed to have murdered Jimmy Hoffa. "I Heard You Paint Houses" were the first words Hoffa said to Sheeran. The mob hitman served in World War II and when he returned home, he turned to crime.
Paramount was originally involved in the project, which De Niro told Scorsese about over a decade ago. After there was a regime change at the studio, they decided against moving forward with The Irishman. The film, which will cost around $125 million, was deemed a risk by Paramount.
During the switch to Netflix, there was a bump in the road. STX Entertainment made a $50 million deal for international rights, which they then sold to foreign distributors. When Netflix landed their worldwide distribution deal, STX either had to bow out or make a legal claim. Now, with Scorsese getting ready for an August start date, the matter seems to have been resolved.
If you want to learn more about Sheeran, then here's the synopsis for "I Heard You Paint Houses":
The first words Jimmy Hoffa ever spoke to Frank "the Irishman" Sheeran were, "I heard you paint houses." To paint a house is to kill a man. The paint is the blood that splatters on the walls and floors. In the course of nearly five years of recorded interviews Frank Sheeran confessed to Charles Brandt that he handled more than twenty-five hits for the mob, and for his friend Hoffa.
Sheeran learned to kill in the U.S. Army, where he saw an astonishing 411 days of active combat duty in Italy during World War II. After returning home he became a hustler and hit man, working for legendary crime boss Russell Bufalino. Eventually he would rise to a position of such prominence that in a RICO suit then-U.S. Attorney Rudy Giuliani would name him as one of only two non-Italians on a list of 26 top mob figures.
When Bufalino ordered Sheeran to kill Hoffa, he did the deed, knowing that if he had refused he would have been killed himself.
Sheeran's important and fascinating story includes new information on other famous murders including those of Joey Gallo and JFK, and provides rare insight to a chapter in American history. Charles Brandt has written a page-turner that has become a true crime classic.